After seeing the cost of a lime plaster job you may be scratching your head wondering if there is a cheaper solution. I know we certainly did! At 3-5 times the price of modern renovating plaster jobs the cost of a full room in lime can be scary. After a little reading and advice from plasterers we managed to restore some of our lime walls ourselves and saving a small fortune in the process. In this article we look at repairing lime plaster walls and some of the small techniques we used.
What is the Victorian Project all about? Find out here.
Why Was Lime Plaster Used When Gypsum Plaster Provides Superior Finishes?
Before you set about ripping down lime plaster or covering it up with over boards/skim it is important to understand why it was used in the first place. Lime plaster was used at a time where houses were not as well insulated as they are today and it was accepted that there would be a degree of moisture in a room. The key characteristic of lime plaster is that it is breathable and better manages this moisture. It won't swell or come away from the wall as modern plasters might. It also allows for a greater degree of movement in the property and wont crack as much as the house moves over time. [See also: Should Lime Be Used for Victorian Houses? Lime vs Gypsum Plaster]
Lime plaster is therefore better suited to the design of an old property and can prevent cracking and damp issues. The downside of this is that it simply doesn't look as nice as a Gypsum skim. If a room isn't particularly damp and you can accept the odd crack here and there then you can replace it but be warned. [See also: Fix Damp in Victorian Houses and the Common Causes]
Can You Skim Over Lime Plaster With Gypsum?
Is it possible to skim over lime plaster with Gypsum? Short answer is yes you can but it doesn't stick as solid as skimming other surfaces. Many of the rooms in our Victorian house have this. Not done by us but at some point in the property's history. What you will find is that the lime plaster beneath sucks the moisture out of the Gypsum stopping it from taking to the wall properly. [See also: Fix Damp in Victorian Houses and the Common Causes]
If you do skim over lime plaster with Gypsum it should be fine if your intention if to paint it. If you are planning to take the wall paper route then bear in mind that small patches of it may come down when you redecorate and pull this paper off in a few years time. [See also: Remove Stubborn Wallpaper – Stripping Back]
Some plasterers will tell you its fine others will tell you it simply can't be done. An alternative hear is to overboard the lime plaster giving the Gypsum a better surface to take to. This can often be difficult in old character properties when you have decorative coving and features on the walls. [See also: Victorian Roof Repairs – Starting Point for any Renovation]
Wether you skim over lime plaster with Gypsum or overboard you must bear in mind the purpose of lime plaster and why it was originally used.
Repairing Lime Plaster Walls Retaining The Original Design Characteristics
If you when you take down your wall paper the lime plaster beneath is not in bad condition then why not repair rather than replace? We felt that repairing lime plaster walls kept part of the property that has been there for 100 years and you remain in keeping with the original design. You are showing off this character rather than hiding it away. In this section we discuss the methods we used to bring original lime plaster to a state where it can be painted and for minimal cost. [See also: Open Up A Fireplace & Log Burner Installation]
There are two parts to this section; filling imperfections & adding a new top coat. Depending on the condition of your walls you may get away with just the filling. [See also: Should I Get A Building Survey & Are House Surveys Worth It?]
Filling Lime Plaster Holes & Cracks
The usual way to address small holes in plaster or thin hairline cracks is to apply a filler and smooth it off with sand paper. Repairing lime plaster walls is no different other than you should use specific products. There are many lime based putty's available which work in the same way as fillers but are breathable. The image below shows a lime plaster wall with white lime putty applied to small holes & cracks. [See also: Ivy Invasion – Removal from Bricks, Roofing & Gutters]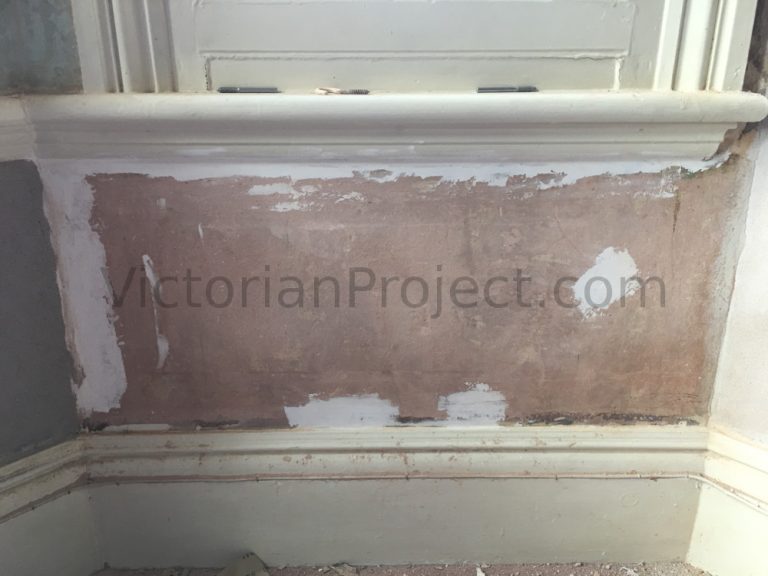 We found that these putty's sometimes need a little extra drying time and possibly a few applications. As stated earlier the lime plaster beneath will suck in the moisture from the putty causing it to sink. You may need to add an additional lump of putty to ensure the hole is filled. Once dry, sand it off with at least 120 grit sand paper and blend it in to the surrounding lime. [See also: Broseley Serrano 7 SE Review – Our Log Burner]
If on completion the area is smooth enough you should be in a position to decorate.
Replacing The Lime Plaster Top Coat
Victorians always used wall paper so it is highly likely that your lime plaster will have had a number of sheets applied and ripped down over the years. Every time this happens bits of the old plaster will come away leaving the wall looking a mess. In these cases a bit of lime putty simply isn't enough but there is a solution. You can replace the top coat alone with some fresh lime based product and this is relatively straight forward to do. You can vastly improve the finish with no plastering experience. [See also: 10 'Gotchas' when buying a Victorian House – Knowledge is Power]
In the first room we renovated we got plasterers in to do a full lime job on one of the walls. They gave us this tip for improving the other walls that we didn't intend to re-plaster. You will need the following items for this task.
Lime Plaster Finishing Coat
A Bucket
A Spray Bottle
A Sponge
A Plastering Hawk
A Plastering Trowel
If you are located in the UK we purchased this Lime Plastering Finishing Coat from the Traditional Lime Company. Look for TRP2 on their product page.
Getting Started – Thinning The Top Coat
So let the repairing lime plaster walls begin. We will start by mixing up some of the lime plaster top coat and thinning it out a little. We found it best to work on as small areas as possible and prepare batches of the top coat for these areas. You can always mix some more. For the small wall shown in the image above we dropped a portion of the top coat, around the size of a football into a bucket. We then slowly added water to it, mixing it in as we poured. You want to keep adding water and mixing until the top coat becomes cream like in consistency and spreadable.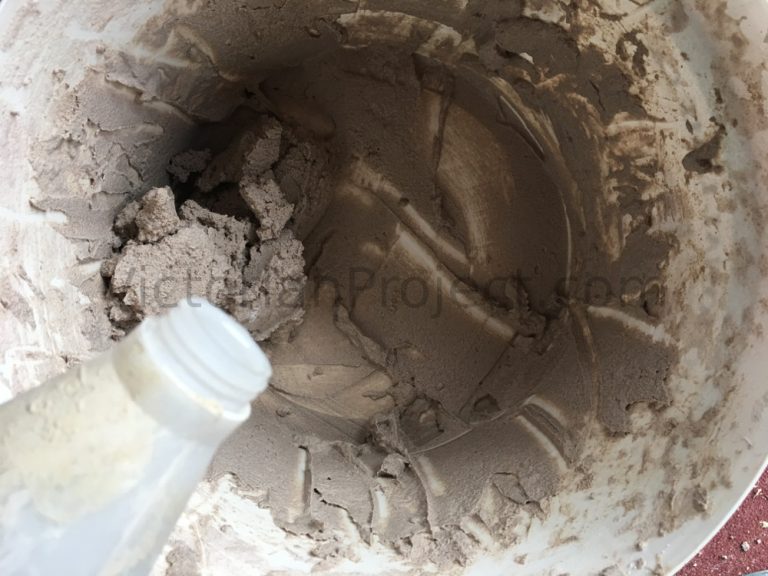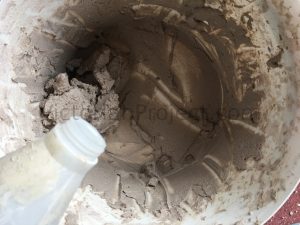 Next, take a mound of the mixed top coat and place it in the centre of your plastering hawk ready for use. If you have never plastered before and used a hawk & trowel it will take a bit of getting used to, Ensure that you keep the hawk upright. As newbies a fair amount went on the floor as we were focusing on what the trowel was doing!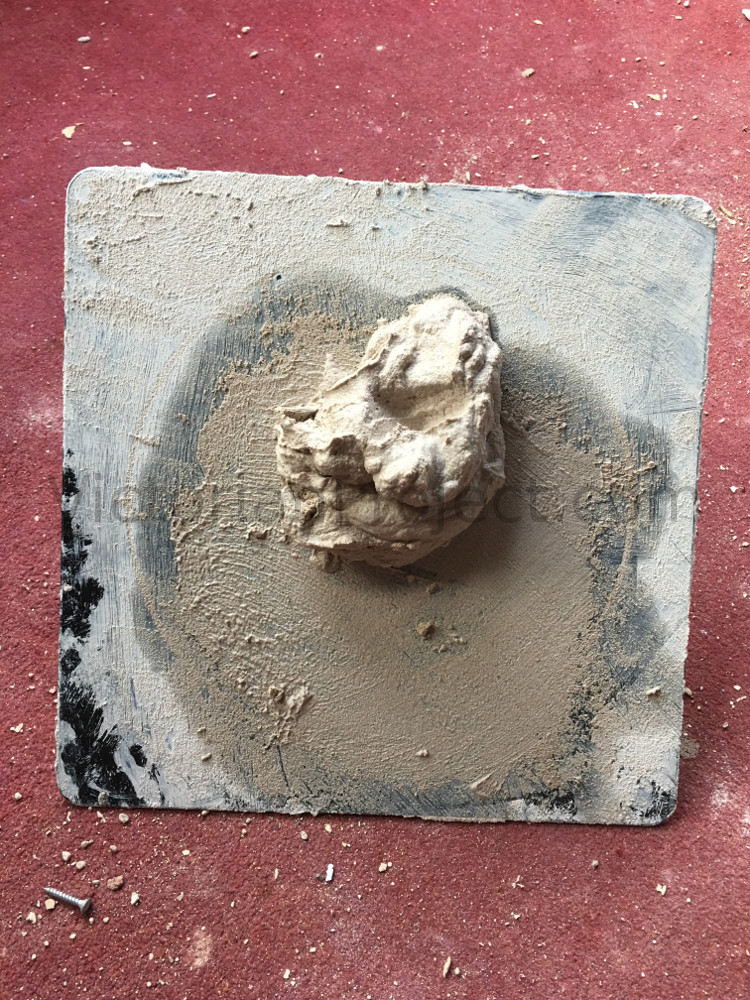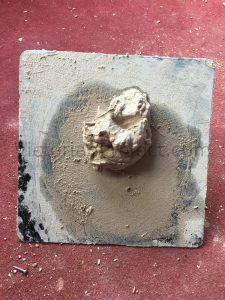 Take some of your top coat mix at the top edge of the trowel ready for spreading. Start small as you initially get going.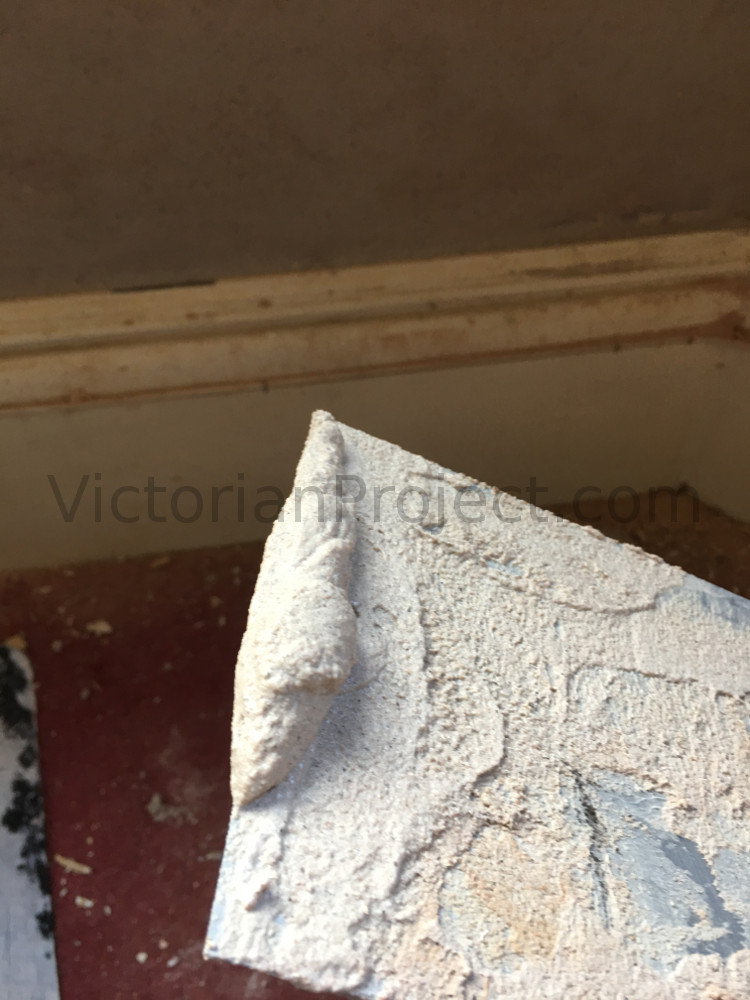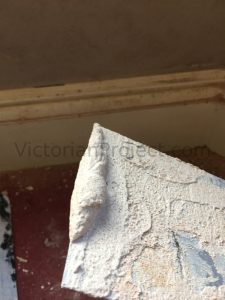 We are now in a position to start spreading the top coat.
Applying The New Lime Plaster Top Coat
The outer edges of the lime plaster wall that you are looking to repair can often be difficult to manoeuvre. We started with these edges and worked the top coat into the corners as shown.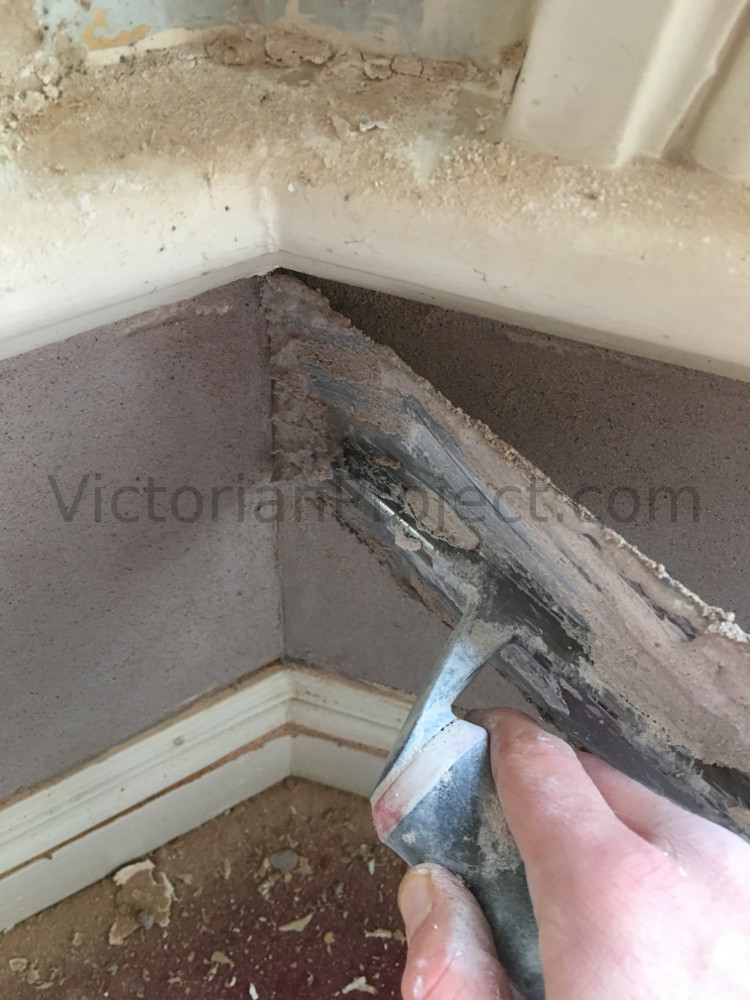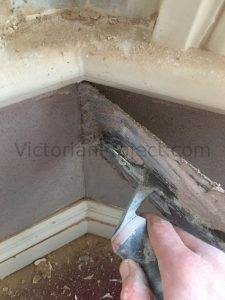 The image below shows the outer edges of the wall coated in fresh lime. Now just the mid section to cover.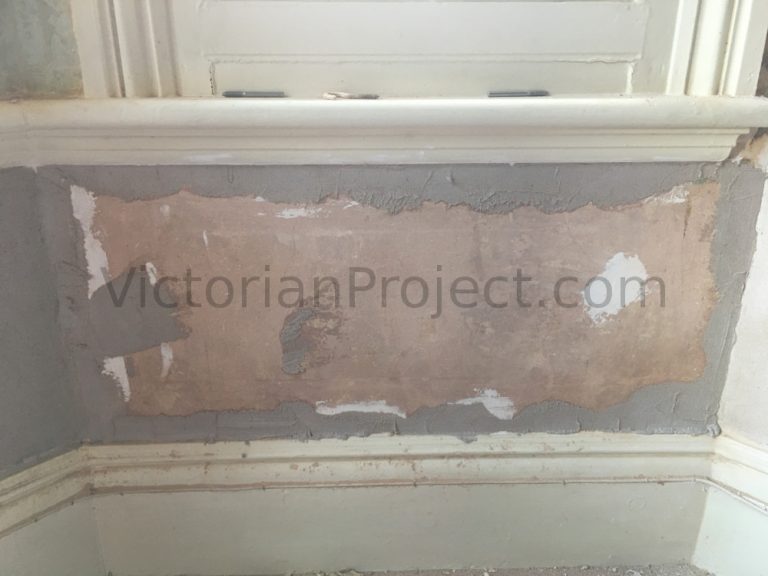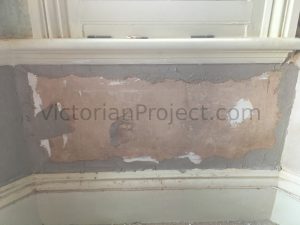 At this stage we are going to spread the remaining top coat across the open space. We want to get it nice and flat but not get too caught up over minor imperfections as these will be addressed later. As the space is bigger it is easy to use the long edge of the trowel to spread the coat. The image below shows the small wall covered in lime top coat.
Finishing the Top Coat & Smoothing The Imperfections
We are now in a position where we have a fresh layer of lime based top coat but looking more like an iced cake than a house wall. Now we will finish it off and smooth out the imperfections. Take your water bottle and spray all areas ensuring that the full space is nice and moist. Don't swamp it but make sure it glistens.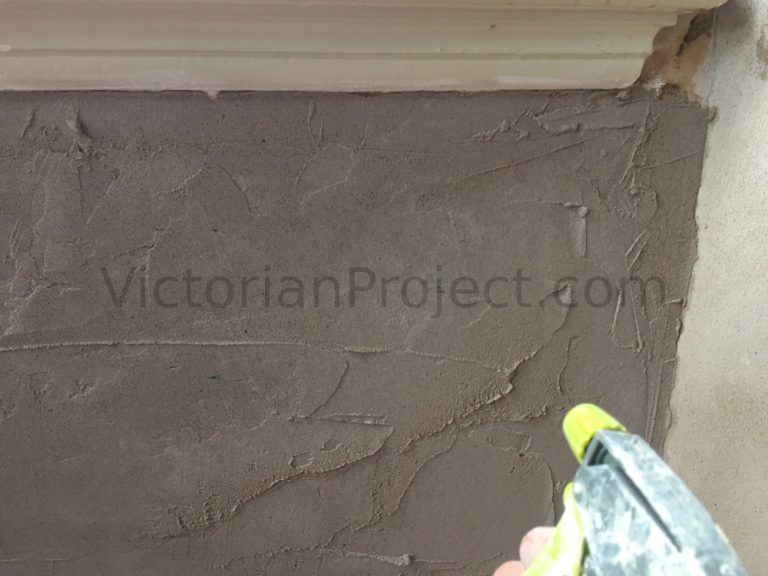 Next, take a sponge and carefully rub it along the plaster levelling off any ridges and smoothing over any cracks. If you find that the top coat is coming away with the sponge then add a little more spray.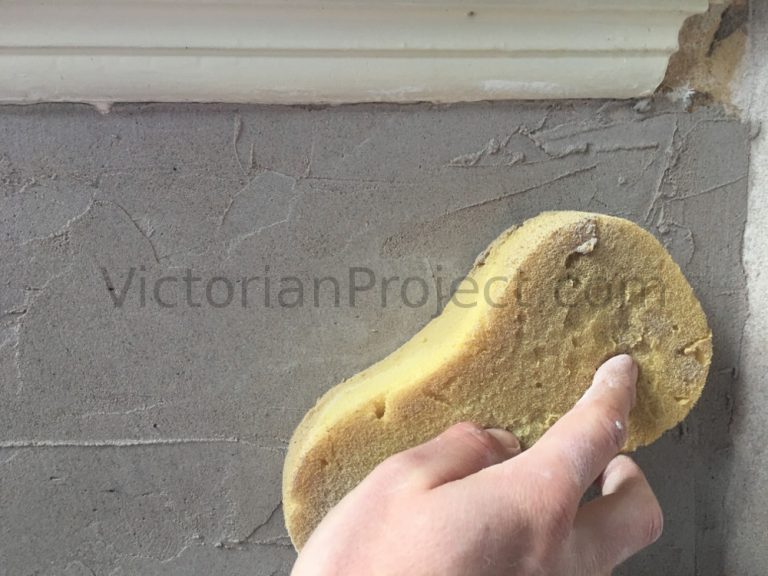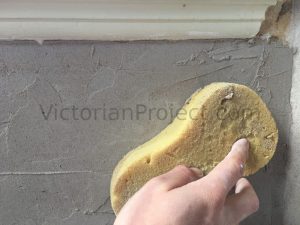 Smooth off the full space and check from all angles to ensure that nothing has been missed.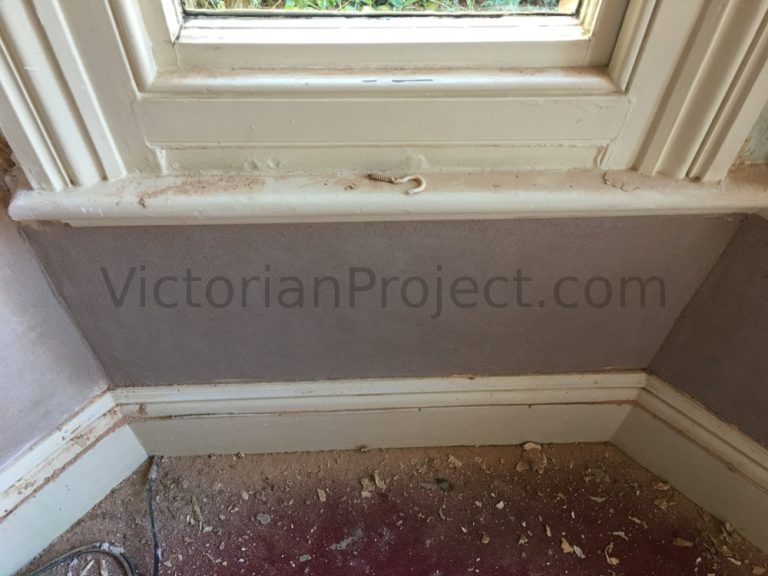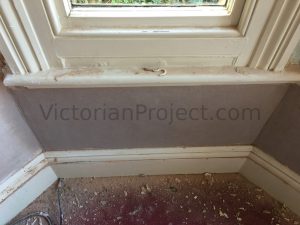 The image above shows the finished article. All of the cracks, bits of broken plaster and putty filled holes have been covered by a new lime top coat. The surface is in keeping with the original plaster and will now need a few days to properly dry out. Once dry it can be papered or if your finish permits you can give it a lick of breathable paint.
Repairing Lime Plaster Walls – Roundup
It can be difficult to know what to do with old lime plaster walls. When you take down wall very old wallpaper they can be a bit of a mess. You do have re-plastering options. Firstly you can skim over lime plaster walls with modern multi finish plasters but if your room has damp you may introduce new issues. You could hire a plasterer to to do a lime job for you but the cost of this can be huge when compared with standard plastering jobs.
If the space in question is small like the wall used in this article then consider repairing lime plaster walls with a new top coat. I must stress that we are by no means plasterers and we were advised this approach by the tradesmen we hired for a lime job. Taking this approach saved us a small fortune and we were extremely pleased with the result.