So you have spent the last few days restoring original wooden floorboards and are now trying to find the right product to finish them off? Maybe you have sanded down a door or piece of furniture and are looking for the right protection for it? More often than not the first thought is varnish but there are many different wood finishing products out there. In this Osmo Polyx Hard Wax Oil review we take a look at an alternative to varnish that promises both durability and ease of application. We look at the Osmo Polyx Oil vs varnish battle and show how they stack up against each other.
What is the Victorian Project all about? Find out here.
So What Is Osmo Polyx Hard Wax Oil?
Firstly it is not a varnish. When dry, a varnish provides a rock solid seal over the surface of your wood. This makes it massively durable but prevents patch touch-ups & if you don't like the finish it can be difficult to change it.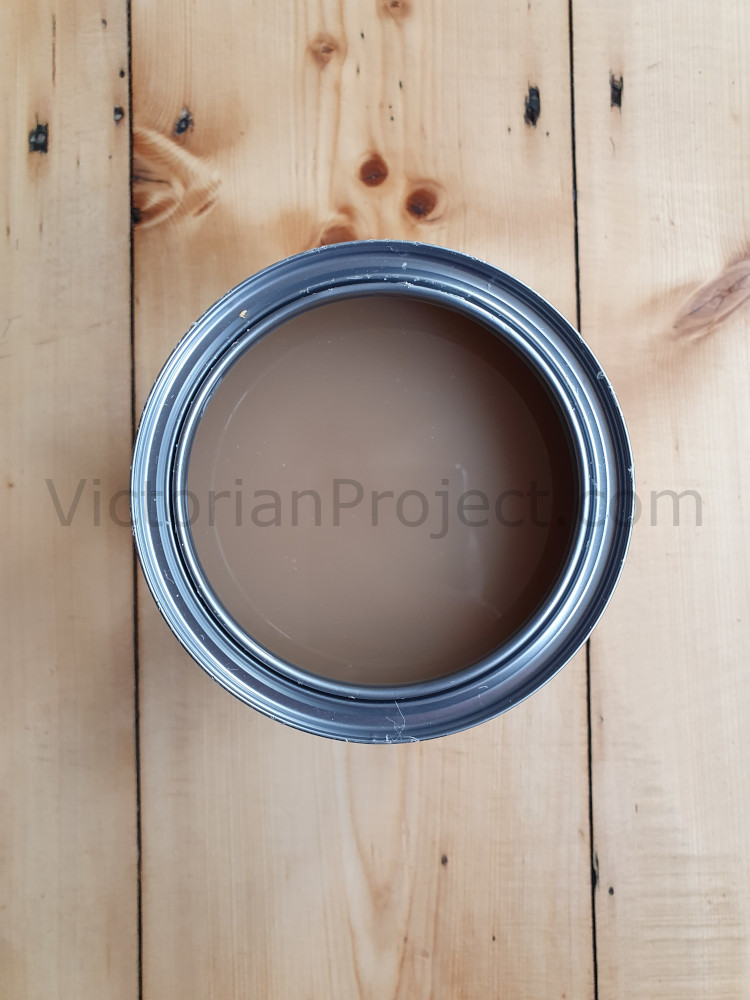 Osmo Polyx Hard wax Oil, as the name suggests covers the wood surface in a tough wax. It is designed to enhance the natural tone of wood & provide a permanent wet effect. It is tough but not as final as a varnish and somewhat more forgiving. If you run your hand over the surface of both you will feel the difference. It will glide over the varnish and a bit of resistance from the Osmo oil. The oil is both dirt and water resistant and available in a range of sheens. [See also: Restoring Wooden Floorboards & Finishing – No Pain No Grain]
The Technical Stuff
The Osmo Polyx Hard Wax Oil official data sheets can be found at this link:
To summarise the key areas….
The product is largely based on natural ingredients (plant oils & waxes) with the addition of drying agents, water-repellent additives & white spirit. See the above link for full contents.
Max VOC 500 g/l.
Viscosity: 95-240 mPas.
Coverage 24 m²/L.
Drying time 8-10 hours.
Recommended coats: 2.
Osmo PolyX Hard Wax Oil Range – Sheens, Colour Tones & Available Sizes
As already discussed the purpose of Osmo Polyx Hardwax Oil is to bring out the natural appearance and character of the wood therefore it is available in 'clear' only and no colour tints. There are however different sheens for you to choose from. These are; Matt (3062), Semi-Matt (3065), Satin (3032) & Glossy (3011). [See also: Wooden Floor Finishes – Use, Colours & Protection]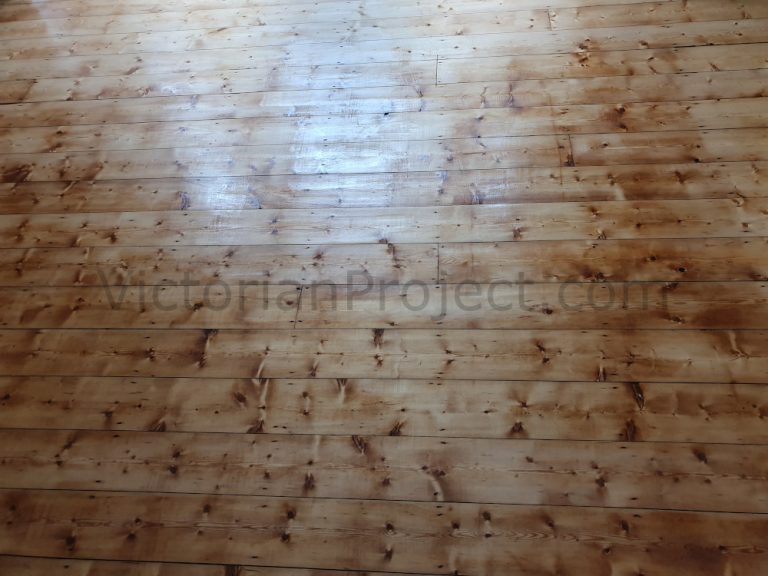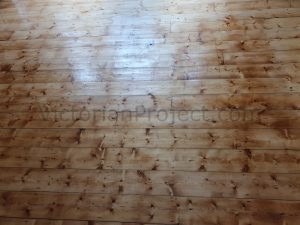 Tins of Osmo Polyx Hard Wax Oil are available in the following sizes; 5ml sample pots, 125ml, 375ml, 750ml, 2.5L & 10L. Remember the expected coverage is 24 m²/L and you will be looking to apply two coats. [See also: Remove Stubborn Wallpaper – Stripping Back]
Application of Osmo PolyX Hard Wax Oil
So, its time in our Osmo PolX Hard Wax Oil Review to start spreading! For this post we used the product to finish our floorboards in our main living room. They had been sanded, smoothed and cleaned and were ready for coating. Osmo recommend application with either a rag or brush. We chose to use a large brush for the task. The vendor does make brushes for this job but any will suffice. We used a 4 inch brush which would cover most of a floorboard in one stroke. [See also: Open Up A Fireplace & Log Burner Installation]
The application is straight forward. Ensure that you give the product a good mix and start in the opposite corner of your exit door. Begin working it in with the brush to every board leaving no space uncovered and make sure that you do not have any pools collecting in notches or sunken parts of the wood. Ensure that your spread is as even as possible. The data sheets suggest the odour to be "Faint to Mild" however we did find this to be quite powerful. [See also: Breathable Paint For Lime Plaster – What Are The Options?]
The recommended drying time for Osmo Polyx Hard Wax Oil is 8-10 hours. So we returned the following day to apply the 2nd coat. Once again we repeated the above process making sure our application was even. We have used a number of wood stains in the past and on application, Osmo Oil did seem nice and forgiving in the dips and notches and does not highlight the bad bits. [See also: Fix Damp in Victorian Houses and the Common Causes]
Patch Touch-ups
One of the main reasons we chose to use Osmo Oil is the ability to patch touch-up areas that have worn away. We will look at Osmo PolyX Oil vs Varnish shortly but one of the problems with varnish is that you cannot do this. It does last somewhat longer but if you get an area of the floor that has worn you need to take the time to re-do the full space. [See also: Victorian Roof Repairs – Starting Point for any Renovation]
With Osmo Oil you can lightly sand the affected area and then apply some more. Gradually building it up to match the surrounding areas. We particularly liked this characteristic as it means that once you have done the job, a bit of ongoing maintenance and you will never need to re-do the full floor. The Osmo Polyx Oil durability is good and this combined with the ability to patch-up means it will last. We will do a future post showing exactly how to patch touch-up a wooden floor with Osmo Oil. [See also: What To Do With A Wallpapered Ceiling? Be Careful!]
The Level Of Protection Provided & Osmo Polyx Oil Durability
If you think of a varnish at the one end of the scale as being the toughest wood protection and a simple wood stain at the other end offering no protection, Osmo Polyx Hard Wax Oil sits between these. It does offer a barrier between the wood and any objects on it but the barrier is not as solid as a varnish. [See also: Should Lime Be Used for Victorian Houses? Lime vs Gypsum Plaster]
The protection is pretty decent though. At the time of writing this Osmo Polyx Hard Wax Oil review, our living room wooden floor was finished around two years ago. We have been careful with our floor and the only areas that look like they could do with bit of a touch-up are directly in front of the sofas. Even these areas aren't massively noticeable. After cleaning, all of the walkways look the same as the day they were done. There are a few nicks where things have been dropped but you will get these with a varnish. Osmo Polyx Oil durability is good. [See also: Mist Coat Ratio & Painting New Plaster]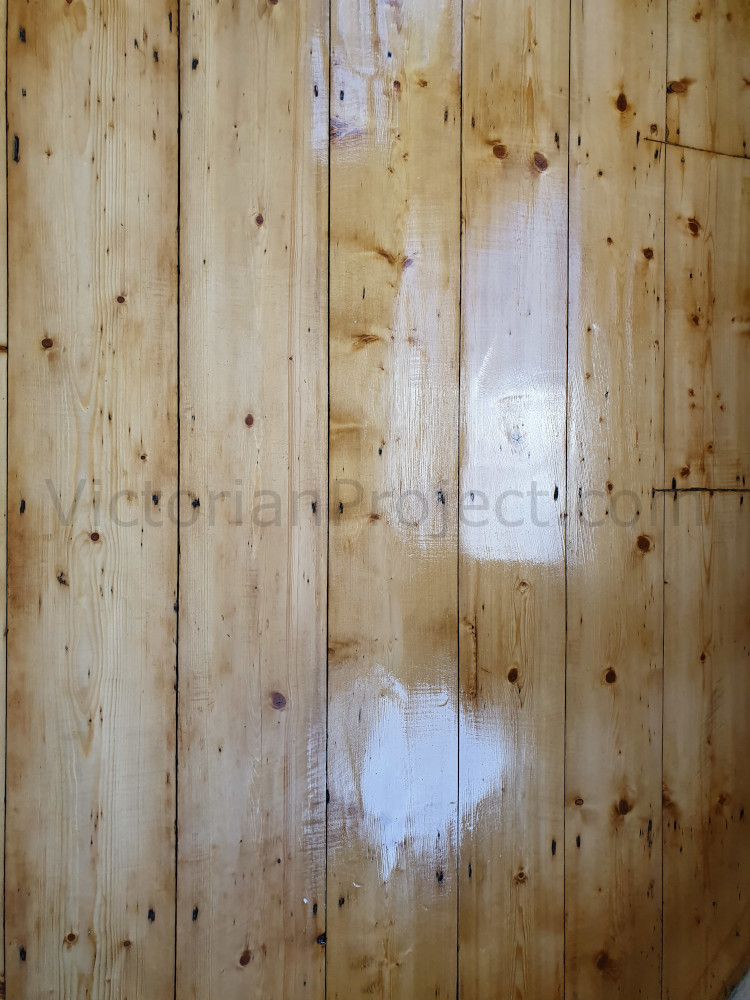 So how long does Osmo Oil last? A varnish will last you around 5 years before you will need to start thinking about redoing a floor space. With Osmo Polyx Hard Wax in my opinion you can expect it to last between 2-3 years before it needs some attention. The beauty here though is your patch touch-up ability. With a bit of maintenance here and there it will look after your wood and last you a long time. [See also: Plaster, Putty & Paint – The Living Room Walls]
Osmo PolyX Oil vs Varnish
So as a comparison the table below shows the Osmo Polyx Oil vs Varnish key points. We have compared it with a good and well used brand; Ronseal.
| | | |
| --- | --- | --- |
| | Ronseal Varnish | Osmo Polyx Hardwax Oil |
| Durability | Rock Solid | Decent Barrier |
| Colour Tones | Many Tones | Clear Only |
| Longevity | 5 Years | 2-3 Years ** |
| Price | 0.75l £21 | 0.75l £28.51 |
| Coverage | 24 m²/L | 24 m²/L |
| Application Ease | Very Easy | Very Easy |
| Patch Touch-ups | No | Yes |
Osmo Polyx Oil vs Varnish
**Although 2-3 years is specified for 'Longevity' this is with no maintenance. Osmo Oil patch touch-ups are simple and with a bit of work on those areas that have worn away it will last you much longer. [See also: Ivy Invasion – Removal from Bricks, Roofing & Gutters]
Another important thing to note is the lack of colours available in Osmo Hard Wax Oil. You need to remember its purpose here. It is designed to bring out and show off the character of your wood and not to hide it away. [See also: Repairing Lime Plaster Walls – Hiding The Cracks]
Osmo PolyX Hardwax-Oil – The Finish
Finally in our Osmo Polyx Hard Wax Oil review, the finish. The product finish is a permanent wet look in whatever sheen you have chosen. It will not colour or change the appearance of your wood but highlight the grain and bring out its natural character. The below images show our main living room wooden floor treated with two coats of Satin (3032) sheen. [See also: Fitting a Wall Mural & Creating A Feature Wall]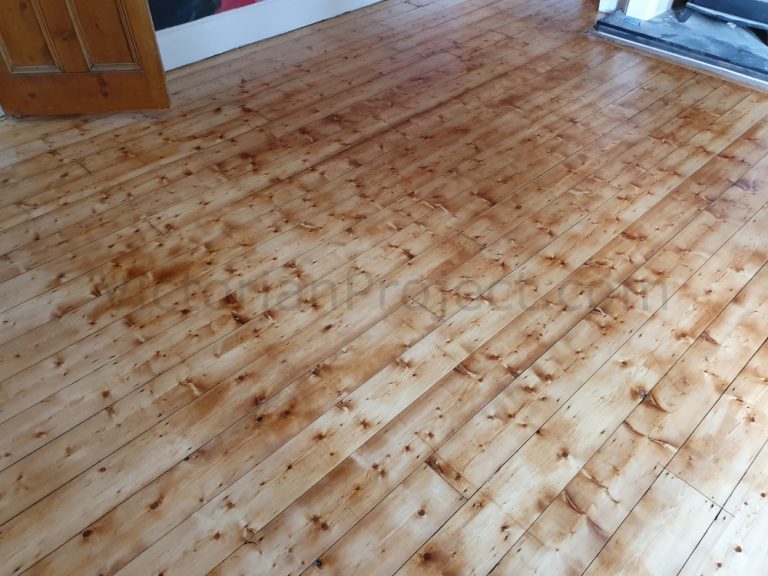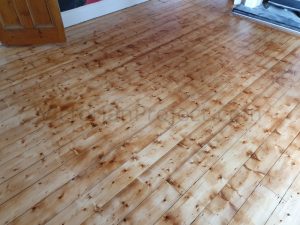 The wet look finish looks great and provides a nice warm feel to the space. The wood retains its natural colour and is not overpowered by the product. The surface is smooth and the product does not bring attention to any sanding imperfections (there were a few). [See also: How to Paint a Ceiling – Simple Rules & Direction]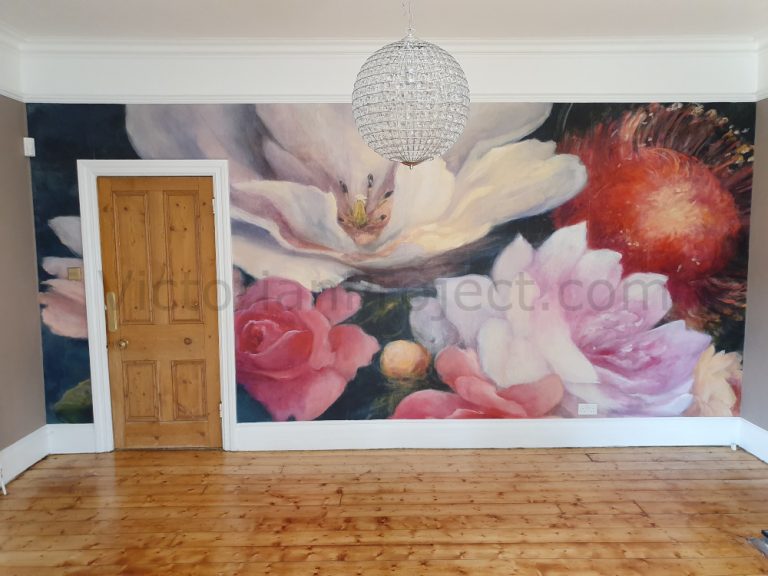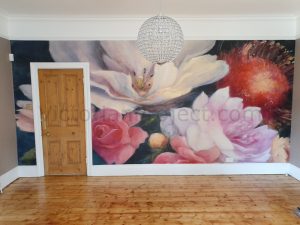 Osmo Polyx Hard Wax Oil Review – Roundup
We will start of by saying that Osmo Polyx Hard Wax Oil is a fantastic alternative to varnish. When we compare Osmo Polyx Oil vs varnish there are many reasons to opt for it particularly for wooden floorboard restorations. It is very easy to apply and offers a good barrier to protect your wood. It is not as tough as varnish but in our opinion this is outweighed by the fact that patch touch-ups are relatively straight forward to do. The Osmo Polyx Oil durability is decent and a little maintenance here and there and it will last. [See also: Earthborn Clay Paint Review – Breathable & Eco Friendly]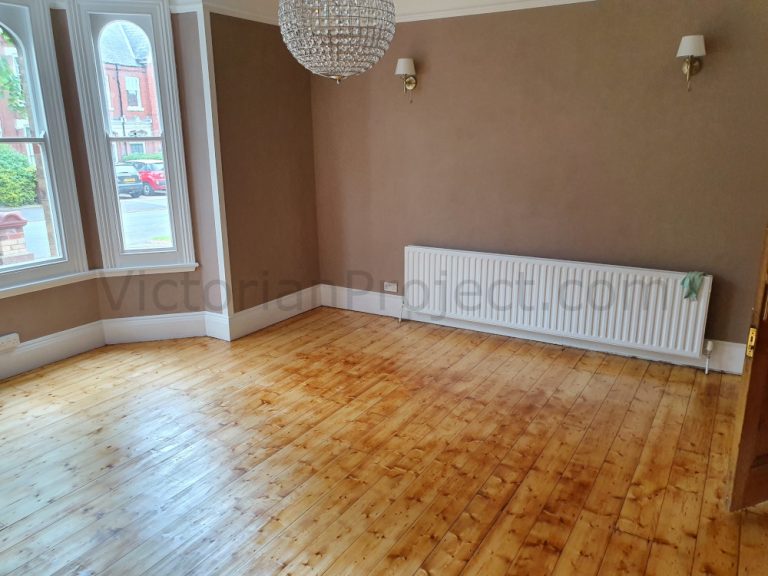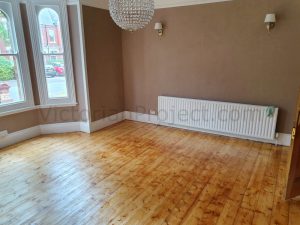 Another big positive is that we found the product very forgiving. This makes it perfect if you are new to floor restoration and taking on your first wood floor sand. You may have some areas that you could have done a bit better and Osmo Polyx Hard Wax Oil won't call these out as a stain might. [See also: Broseley Serrano 7 SE Review – Our Log Burner]
Being wax based the finish does have more of a grippy feel to it than a varnish so I perhaps wouldn't use it on stair banisters where you want to glide but for anything else it is a top wood finish that we highly recommend!