If you want to create a real statement in a room then you can't go much bigger than fitting a wall mural. A mural creates a talking point & can turn a plain space into image, full of character. Murals are expensive for what they are and getting in right can be difficult both in terms of the selection and the installation. In this article we look at our living room wall mural installation and the decisions we made. We discuss selection / buying, fitting and how to measure for a wall mural.
What is the Victorian Project all about? Find out here.
Choosing The Right Mural & Matching Tones
There is far more to getting the mural selection right than picking a picture that you like. The colours and tones within the mural design will have a bearing on the paint colours you can choose for the remaining walls and even the furniture you can have. You should select your mural and paint at the same time and ensure that they compliment each other. [See also: Remove Stubborn Wallpaper – Stripping Back]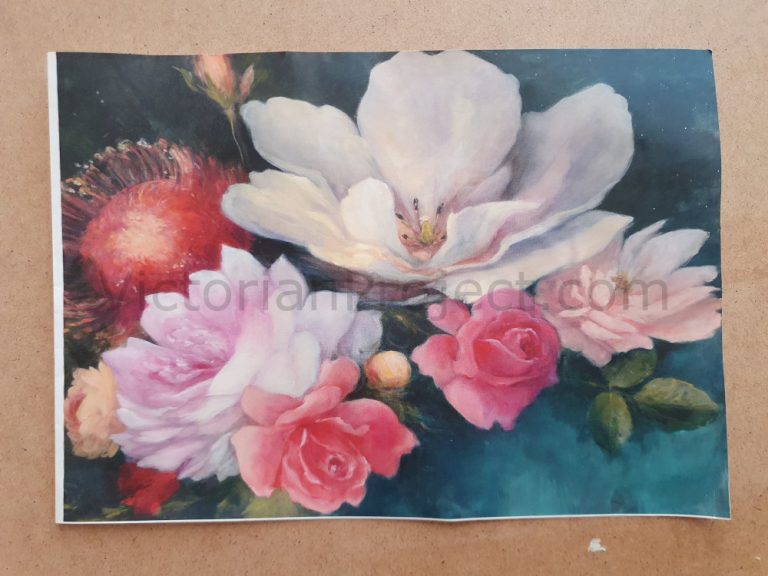 We found a mural that we liked early on and based the paint colour around it. What we found useful was to pick out the main colours from the mural and created a paint shortlist that worked with these. Next we rounded up some tester pots and painted some small patches on the walls. Finally we printed off an A4 version of our mural (shown above) and held it against each paint patch. This allowed us to properly visualise the end result with each paint tone. [See also: Plaster, Putty & Paint – The Living Room Walls]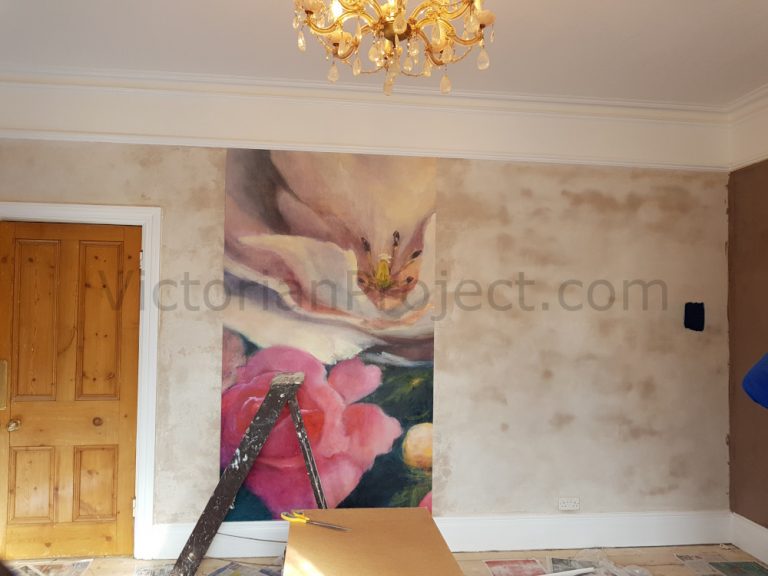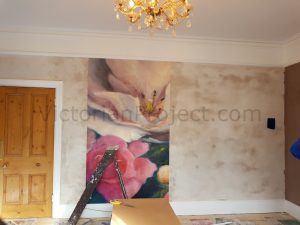 One other thing to bear in mind is that a mural 'can' make a room feel smaller depending on what you choose. The mural that we fitted for this post is very busy with a lot going on. It does give a kind of cluttered feel to the side of the room in the mural direction. Just something to consider. [See also: Repairing Lime Plaster Walls – Hiding The Cracks]
How To Measure For A Wall Mural
When you measure for a wall mural you need to measure, measure and measure again! Murals don't come cheap and getting the sizing wrong is a costly mistake. So, to get your dimensions measure the horizontal length of the wall both at the ceiling and skirting board levels. The reason for this is that walls are rarely perfect squares or rectangles. If the two measurements are different take the greater of the two as your length. Next take the same approach for your height. Measure the height from top to bottom on both the left side and the right and again take the greater of the two values. [See also: What To Do With A Wallpapered Ceiling? Be Careful!]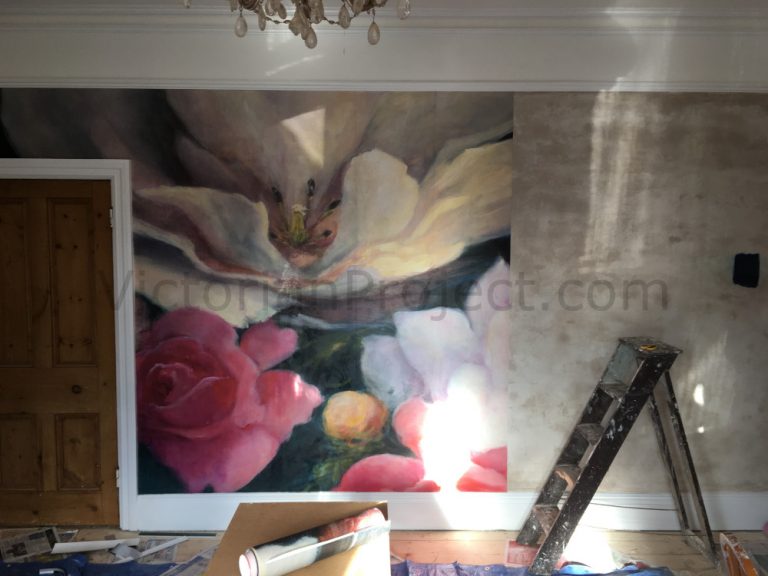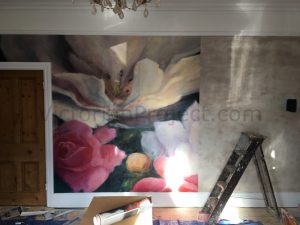 Then as a general rule of thumb you need to add approximately 10cm to each of these measurements. This allows for 5cm on every side of your mural for cut off and wastage. So, as an example if your measurements were as follows:
Top horizontal length 303cm.
Bottom horizontal length 300cm.
Left height 241cm.
Right height 243cm.
You would take your horizontal length as 303cm and your height as 243cm. Add your 10cm waste allowance to these give you a final mural size of 313cm x 253cm. [See also: How to Paint a Ceiling – Simple Rules & Direction]
Buying a Mural & Getting The Right Deal
Before we fit a mural, a bit about buying. The mark-up on wall murals is huge when you think about what they actually are. It is just a print on paper and no different to standard wall paper other than the pattern is not repeated. And yet the price of a wall mural is around 10x higher than using standard wall paper. [See also: Fix Damp in Victorian Houses and the Common Causes]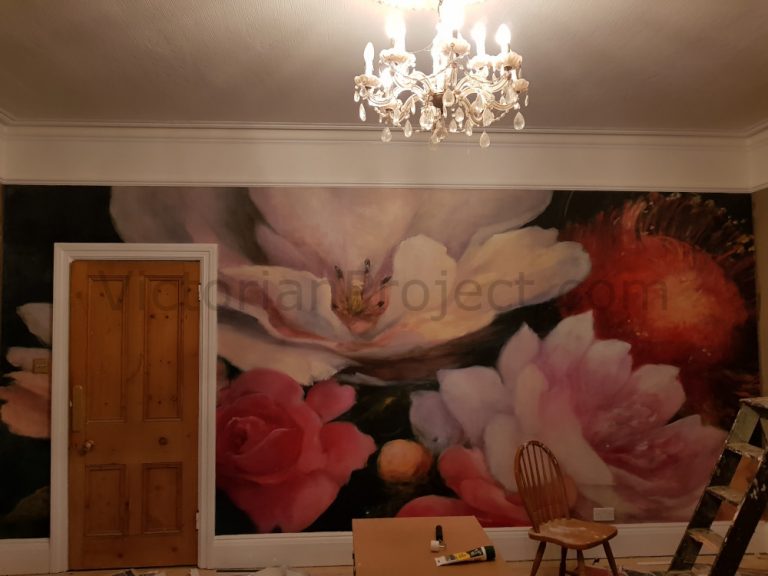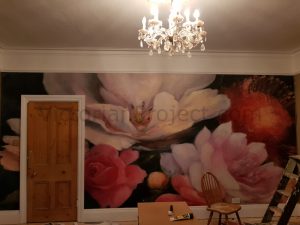 A little tip for you here… Due to the huge mural mark-up it leaves suppliers plenty of scope for offers and deal weekends. If you have selected a mural or having one made, hold off from purchasing until one of the well known offer weekends. For example Black Friday in November is a golden time for buying a mural! The mural used in our living room transformation was priced at roughly £400. On Black Friday the supplier had a 30% off deal, resulting in a saving of £120. Definitely worth scheduling your purchase time. [See also: Mist Coat Ratio & Painting New Plaster]
Fitting a Wall Mural – Getting It Up!
You should only be fitting a wall mural if you are competent in general wall papering. The approach and principles are exactly the same only you have no margin for error. Usually, if you mess up a drop then you can simply replace that strip or you can always buy an extra roll if required. With a mural you can't. You cannot buy individual strips of the design and if you make a significant mistake you are going to need to buy a new mural. If you have little wallpapering experience then hire someone to do the job. This should take around half a day and is relatively inexpensive. [See also: Breathable Paint For Lime Plaster – What Are The Options?]
To fit a mural requires the following tools & materials…
Wallpaper paste.
A pasting table.
A brush to apply the paste.
A smoothing brush.
A pair of scissors.
A plumb line.
The technique used for fitting a wall mural is the same as standard papering however where you place the first strip is very important.
It is best to begin on a side of the wall with no obstructions like doors or windows as shown below. Start by measuring the width of a single strip of your mural. Next, deduct 5cm from the width value. So if an individual strip is 30cm wide, minus 5cm would be 25cm. From the far left of the wall near the top measure 25cm (or whatever your calculated figure is) and place a mark with a pencil. Now, at this mark, use your plumb line to draw a straight line down the wall. The image below shows this. [See also: Open Up A Fireplace & Log Burner Installation]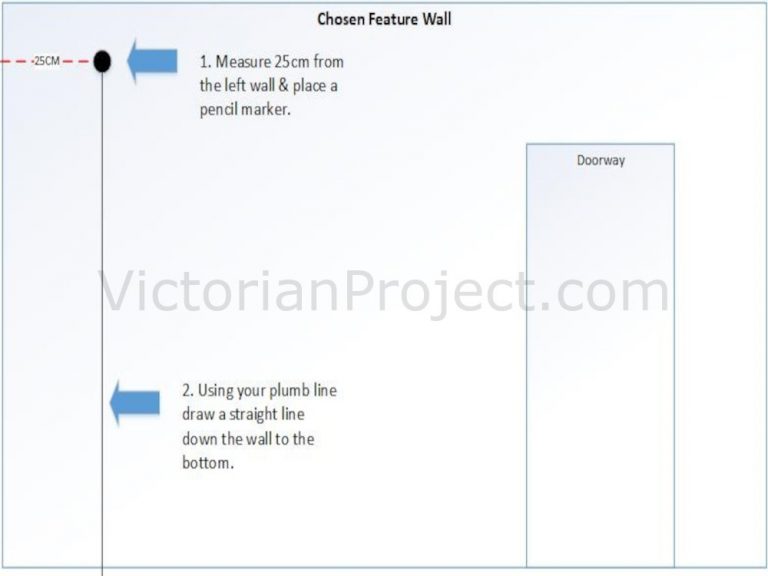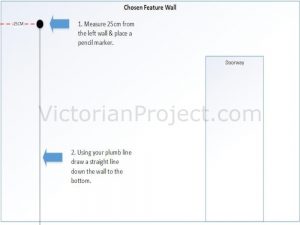 Now, workout which is sheet 2 from the left of your mural and get it pasted up. Fit this sheet snug against the right side of your plumb line ensuring that you have the same amount of excess paper at the top and bottom. Trim it off and your first piece is in place. This piece is now the straight marker for all other pieces to line up against. The image below highlights the application of this sheet. If you are hanging your mural on fresh or porous plaster then ensure you size the wall prior to applying your first sheet. [See also: Earthborn Clay Paint Review – Breathable & Eco Friendly]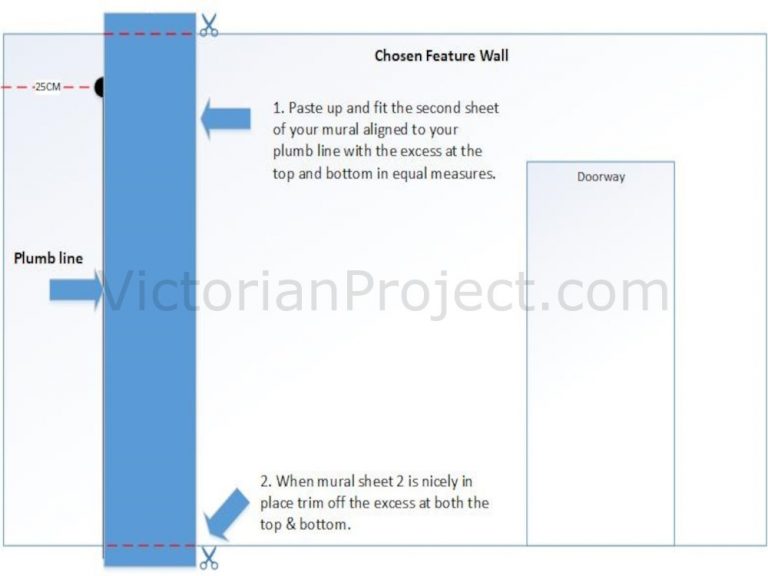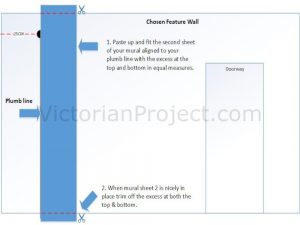 You are now going to put up the remaining sheets. Start with the single sheet to the left (mural sheet 1). This piece will overlap the adjacent wall and if your measurements were correct you should have approximately 5cm on the adjacent wall edge to trim. Once this piece is complete work from left to right for the remaining sheets until you get to the far right of the wall. The image below shows our living room wall mural in its full glory![See also: Victorian Roof Repairs – Starting Point for any Renovation]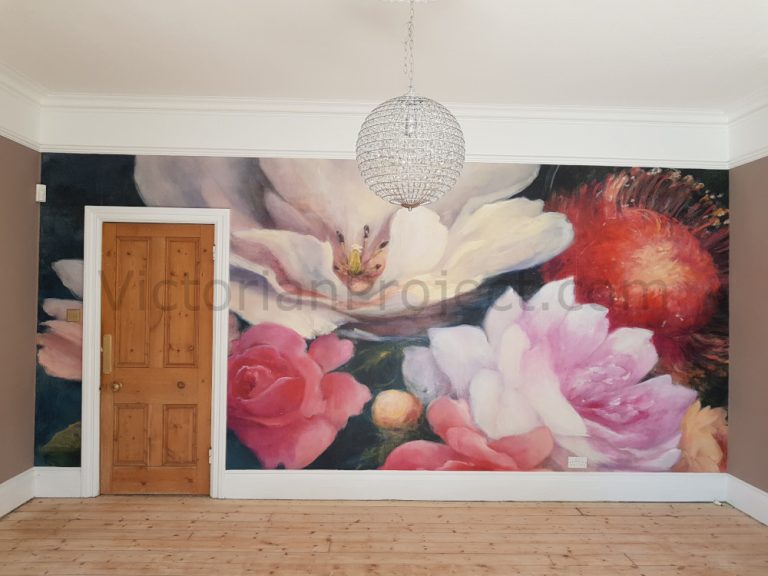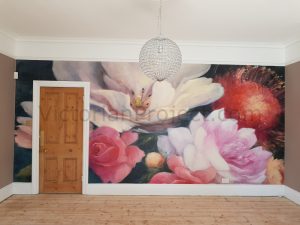 Fitting a wall mural is no different to standard papering but you must ensure that you measure your starting position correctly so that you don't come up short on any of the edges. [See also: Should Lime Be Used for Victorian Houses? Lime vs Gypsum Plaster]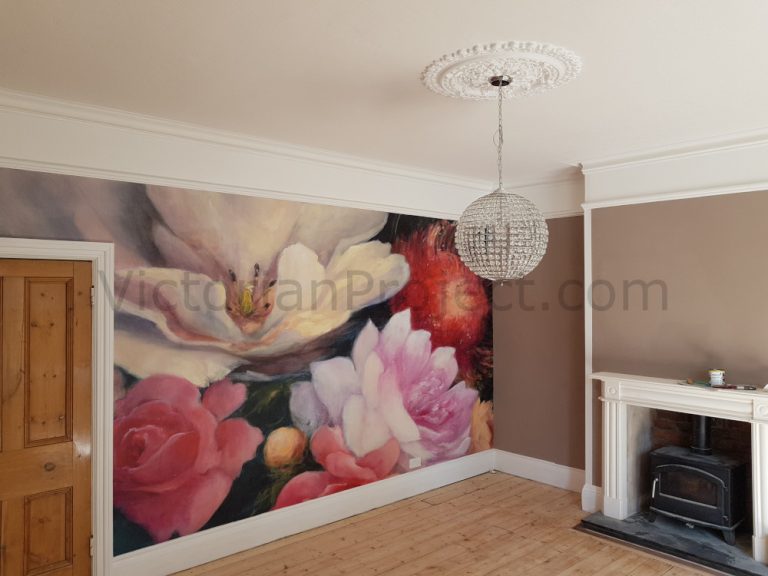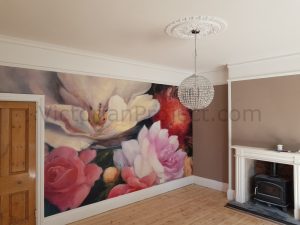 The image above shows our completed mural against an Earthborn Clay paint and newly sanded floor boards.
Fit A Mural – Roundup
A mural is a great choice for a feature wall and will bring a lot of character to a space. The internet is full of great designs or you can have your own made from a photo or image. When purchasing, save yourself a mass of pain by sizing it correctly. When you measure for a wall mural check all sides as walls of very often uneven. Triple check your measurements before buying. Also take advantage of popular offer weekends like Black Friday to make huge savings on your purchase. If you like our mural design we purchased it from Photowall.co.uk. [See also: Broseley Serrano 7 SE Review – Our Log Burner]
Only fit a mural if you are competent at wallpapering. The approach is the same as standard papering but with no margin for error. Mess up a strip and you need to buy another! If you don't feel confident enough then hire someone to do it. [See also: Ivy Invasion – Removal from Bricks, Roofing & Gutters]