With the main living room transformation complete it is now time for a bedroom. For us, the second largest bedroom is the most urgent and so next up is bedroom 2. The good thing about this space is that most of the work required is cosmetic and for the most part, decorating. Bedroom 2 is to become a kiddies room. With that said, we want it to be tasteful and not too over the top with the children's theme. In this article we look at the bedroom 2 task ahead & our Victorian children's room renovation.
What is the Victorian Project all about? Find out here.
Bedroom 2 – The Canvas
The second bedroom is another square room with the standard Victorian high ceilings. It is currently a very dark space with both the walls and carpet in different shades of purple. It is something of a boudoir and not in anyway styled for children. Like with most rooms in our house, a chimney and fireplace form the centre piece of the room. [See Also: Main Living Room Transformation (After) – Colourful, Warm & Traditional]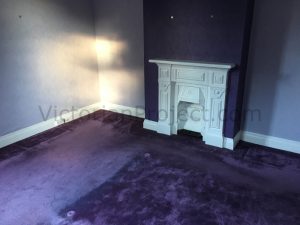 The fireplace itself is small and inoffensive and looks like it has had a recent coat of white paint. This fireplace works in the space and unlike the main living room fireplace, there is no reason for it to be changed. The opening of the fireplace is small and would have been used for an open fire at some point in the property's history. As we have no intention of using this fireplace for heating the room in any way, all we will need to do is freshen it up a little. [See Also: Grab A Sledgehammer, Open Up A Fireplace & Add 5% Property Value]
Wall & Ceiling Thoughts
Unlike the living room, this time the walls would be far easier to deal with. Pulling away a small section of wall paper revealed modern gypsum rather than the previous lime plaster. This would mean wallpaper removal would be far simpler, the finish would be sharper and we would not have to use specialist paints for lime plaster. Even though the previous owners had moved away from traditional building practices, there were no signs of damp in the room anywhere to be seen. [See Also: Should Lime Be Used for Victorian Houses? Lime vs Gypsum Plaster]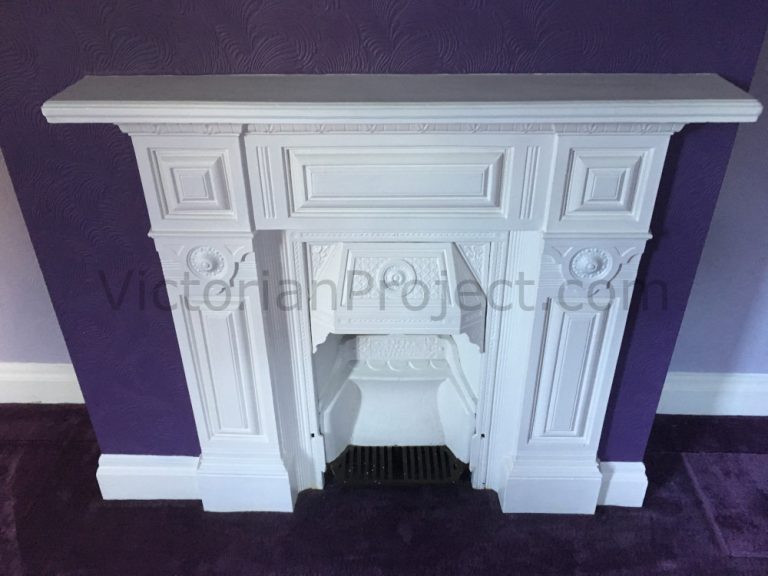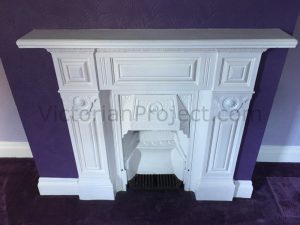 The walls are lined with a somewhat thick patterned wallpaper, as previously stated in two different shades of purple. As with all other rooms the ceiling is also papered. At the time of writing, we have not yet had the chance to look at what is underneath it in terms of plaster. Whilst in a previous post I have discussed the risks of removing wallpaper from old ceilings, this will have to come down. The raised pattern is ancient and really has no place in a property of today. [See Also: Remove Stubborn Wallpaper – Stripping Back]
The Flooring & Carpet – Right Feel Wrong Style
This room has the best condition carpet in the entire house! The photo beneath unfortunately doesn't really show this but it is in great nick. Not only that but it is extremely thick and feels great underfoot. Unfortunately however, you just can't see beyond the deep purple colour. This is an issue that we just cannot live with. It's the type of colour you see when browsing a carpet store and you ask, "Who in their right mind would go for something like that?" It will of course be replaced. [See Also: Plaster, Putty & Paint – The Living Room Walls]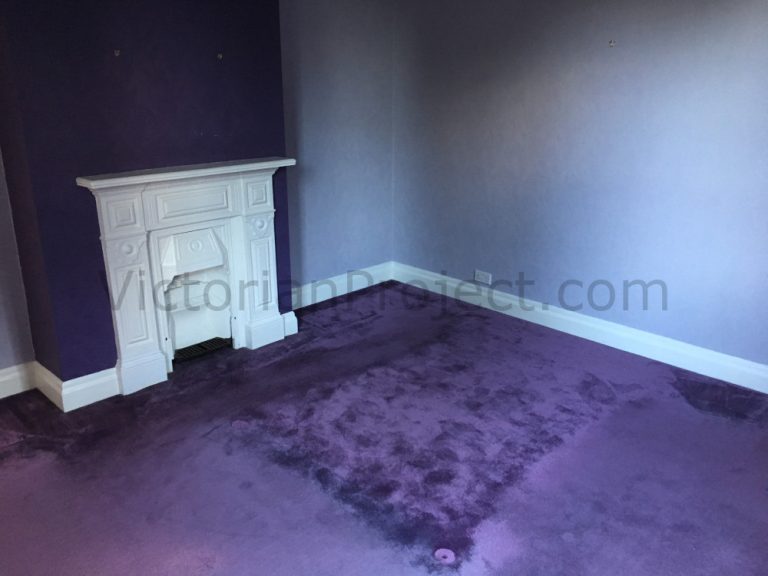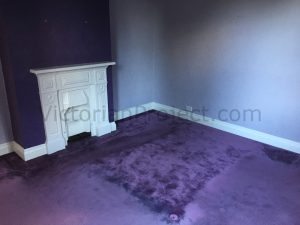 We did take back a corner of the carpet to assess the condition of the wooden floorboards beneath. This was purely out of interest. We had opted for exposed floorboards in our last room, but this won't be repeated here. This is to be a childrens room. Therefore, a nice soft carpet is essential for play and to give a warmer feel. Our main living room wooden floor restoration took some graft and it is a nice thought that this room will be a simple carpet lay. [See Also: Restoring Wooden Floorboards & Finishing – No Pain No Grain]
Lighting, Fixtures & Fittings – The Trimmings
One of the best things about this room is the natural light. It will be a fantastic space in the summertime. Both of the two external walls have windows giving a great view of the outside spaces. It is the only bedroom to have more than one window. It has a single light in the middle of the room which oddly takes around 30 seconds to warm up. This will be updated! It's is seated on a polystyrene ceiling rose which looks like is must have been painted at least a hundred times. [See Also: What To Do With A Wallpapered Ceiling? Be Careful!]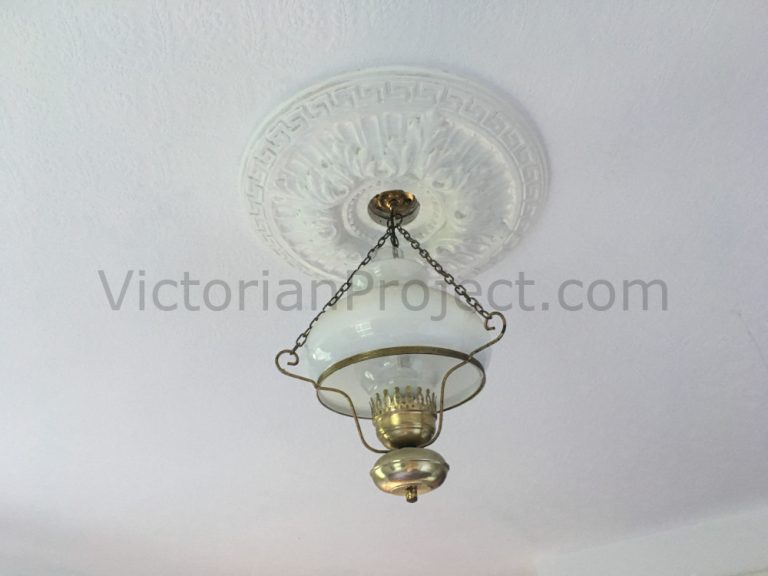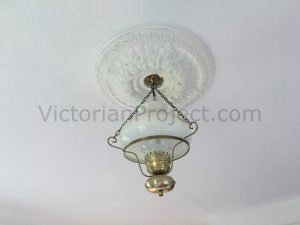 When compared with other rooms in the house there are limited fixtures and fittings and nothing much original. As said, there's the fireplace but aside from that there is very little. A picture rail runs all the way around the room and it is higher than usual. This leaves no room for any coving/cornicing. For fixtures and fittings, this room is lacking and will need some clever ideas to instil some character back into the space. Despite the absence of original character, the room still maintains a great feel due to the flood of natural light. [See Also: How to Paint a Ceiling – Simple Rules & Direction]
Victorian Children's Room Renovation (Before) – Roundup
Whilst there is still a great deal to do, this bedroom transformation should be way more straightforward than our living room. Modern plaster will mean the transition from wallpaper to paint will be easier and a new carpet will remove the graft of the previous floorboard restoration. [See Also: Fix Damp in Victorian Houses and the Common Causes]
With this room we are looking to create a space suitable for children but retaining the classy feel. We have no intention of cartoon wallpaper and lamp shades, etc! As this room is rather lacking in original features when compared with other rooms in the house we will look to instil some character as we go and to make use of the few original features that are there. So, from boudoir to bedroom, we begin our Victorian Children's room renovation.