The Victorian era was only just over a century ago and yet there are subtle differences between Victorian properties & the more modern houses of today. On the surface a modern house is more energy efficient and more often than not cheaper to maintain. They are likely to be warmer with fewer damp related issues and damage due to moisture and humidity. They are more practical and better suited to modern living and the requirements of 21st century life. However with all of this they lack both charm and character and are rarely unique.
At the time of Victorian property development both the architecture and building techniques were very different. It was less about mass producing full housing estates and the focus was usually on 1 or two properties. The craftsmanship was far better with less focus on quick turn arounds and modern sales targets. Every Victorian house is different and with over 100 years of living, plus each having had multiple tenants every house will have a history of its own. [See also: 10 'Gotchas' when buying a Victorian House – Knowledge is Power]
Why Choose a  Victorian Property?
There are many reasons for taking on a Victorian house. Most give off a feeling of grandeur due to the spacious layouts and high ceilings. They also come full of many quirky fixtures and fittings of the time. Crafted coving, decorative ceiling roses and beautifully tiled flooring to name a few. Every room in a Victorian house is different, each one full of its own character and unique design/layout. [See also: Victorian Roof Repairs – Starting Point for any Renovation]
We come from a small town with Victorian properties spread throughout. Before making our purchase we knew what we were looking for and had to wait some time for the right house to become available. We wanted something large, suitable for a family and that we would not outgrow any time soon. It had to be structurally sound with minimal visual signs of damp or damp related issues. The house needed to be located in a nice part of town with good access to the places and facilities that we were used to. Above all it needed to be a project. We wanted something that needed to be gutted from top to bottom so that we could put down our own stamp and also add value to the property from the work that we do. [See also: Fix Damp in Victorian Houses and the Common Causes]
Victorian House Renovation Experience
Starting out on this Victorian renovation project we have little experience of developing old properties. However as with many things in life once you get started and continually throw yourself in at the deep end you have little choice but to learn and learn quickly. The intention is to make use of the vast wealth of online resources available in this area and to tap in to professional help and advice when required. We are looking to undertake as much of the work ourselves as possible. We will only bring in contractors when absolutely necessary. This will of course cut down on costs and add value to the property. It will also allow us to expand our knowledge of developing Victorian properties. [See also: Remove Stubborn Wallpaper – Stripping Back]
Victorian properties have certain methods and techniques that SHOULD be adopted. Whilst areas such as masonry & plastering have somewhat evolved and changed over time we want to ensure that we do everything by the book and in keeping with the era of the house. More examples of this later. [See also: Should I Get A Building Survey & Are House Surveys Worth It?]
The Purchase
The Victorian Project is to develop a semi-detached Victorian house with a living room, dining area, kitchen, 5 bedrooms and a large garden. The house that we have purchased was previously owned by an older couple and it has seen a number of years of neglect before to being sold to us. In fact it had been left unoccupied for the best part of a year prior to us moving in. Importantly however the property is believed to be structurally sound with no notable issues to raise concern. In its current state it is perfectly liveable!
The Purpose of the Victorian House Renovation Blog
The Victorian house renovation blog / site is to allow us to keep an online portfolio of both images and Victorian house renovation methods that we learn and adopt to complete the project. Restoring Victorian properties requires a lot of research, time and perseverance and hopefully the knowledge that we gain and share will be useful to your Victorian renovation projects.
And now for the house itself…
The Task that Lies Ahead
The sections that follow show the Victorian house that is to be transformed and provides some images of the property at the time of purchase. This will provide an indication of the journey ahead and the images shown will be used to create some before and afters later in the project. For this section I have divided the house into sections and focused on key parts of each area.
The Ground Floor – Main Living Space
The ground floor of the property features a large living room, dining room, kitchen & utility. As the living room is perhaps the centre piece of any house the photos below show the work ahead of us and some of the original Victorian features that are still part of the space. The room has some fantastic Victorian coving at the ceiling edges and a large rose located in the centre. The fireplace has been bricked up at some point over the years in favour of a simple gas setup. Unfortunately the original fire surround and mantel piece has been taken from the property. We will need to seek something similar and in keeping with the house. [See also: Main Living Room Transformation (Before) -Decorating Begins]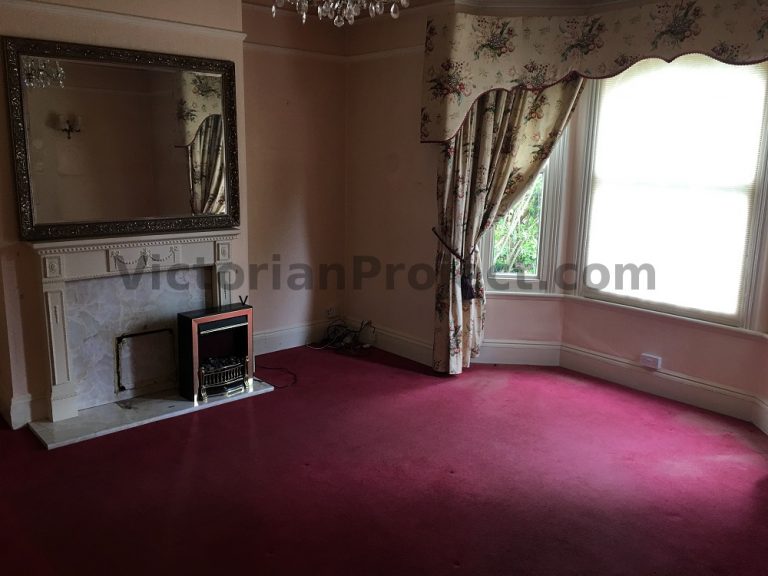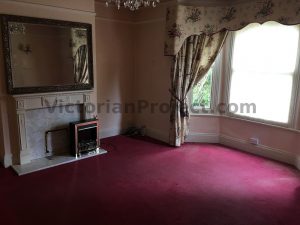 The 1st Floor – Master Bedroom & Bathroom
On the next floor resides bedrooms 1, 2 and 5 (in terms of size) and the main house bathroom. For any bedroom the master is of excellent size. Sitting directly above the living room it offers plenty of space to furnish with some old antique pieces and is in a good state of repair. It also features a ceiling rose around half the size of the one downstairs. Bedroom 1 is equipped with fire place sharing the same chimney as the living room beneath. The bathroom is perhaps small for a property of this size. It does however provide the opportunity to expand into the adjacent boiler room. Something to think about a little later down the line!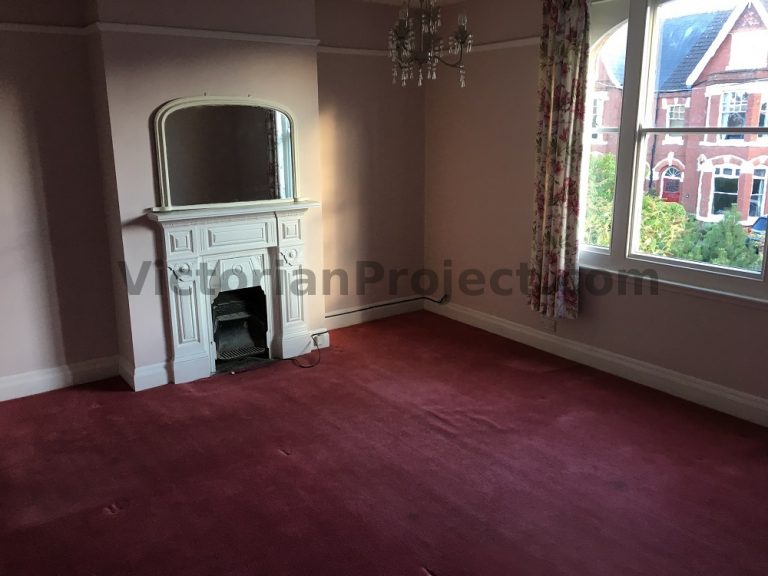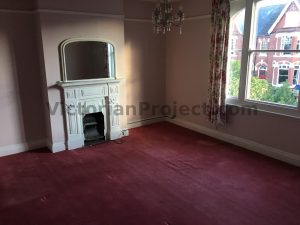 The 2nd Floor – Bedrooms in the Roof
The 2nd and top floor of the property contains just bedrooms 3 & 4. Both of these rooms have slanted ceilings in line with the roof and are again of decent size. Bedroom 3 has cottage like beam impersonations running along the ceiling. Whilst these could look nice they are rather poorly fitted and made from cheaper products. These can easily be changed and improved. Bedroom 4 features a walk in wardrobe built behind the chimney stack.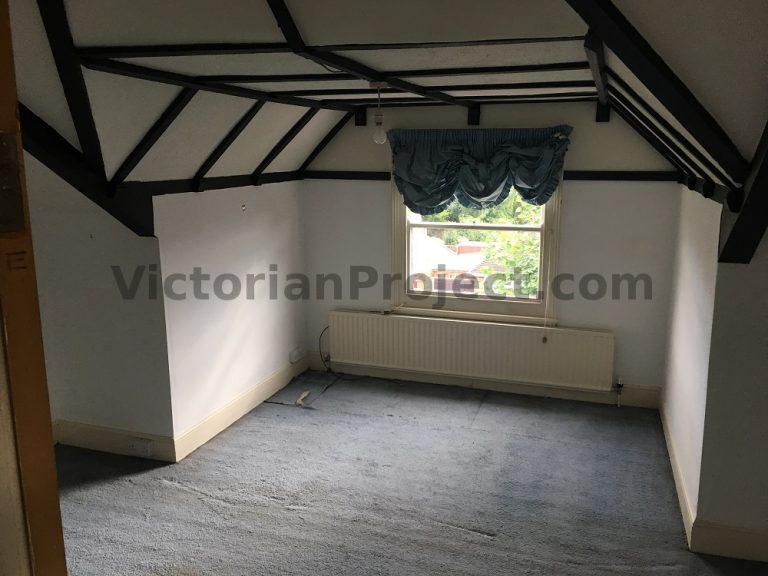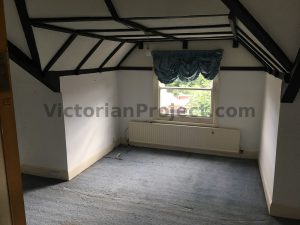 All of the rooms within the property are fitted with the original sash windows of which we fully intend to restore and keep. They are single glazes and need some care but they are fully restorable. The property has no visible structural defects and shows minimal signs of damp. The only visible damp patches can be found in the living room at the base of internal walls and around the chimney breasts of bedrooms 4 & 5. These we will investigate & hopefully find solutions to. It is fair to say that in recent years there has been little care and attention shown to the property but overall is in a good state for a house that is over 100 years old. [See also: Fix Damp in Victorian Houses and the Common Causes]
The Garden & Outdoor Space
The garden of the property runs along the side of the building rather than to the rear. It offers plenty of space and is packed with many different plants and shrubs. It looks like it was once a well-loved patch but has seen some neglect in recent years. At the rear of the garden is a small patio area which looks to be the sun trap of the space. There are two rather large trees at either end of the garden that will need attention. They will certainly need cutting back and we will need to ascertain professional advice as to whether or not the property is in danger from their roots. [See also: Ivy Invasion – Removal from Bricks, Roofing & Gutters]
Victorian House Transformation – Roundup
Over the coming weeks months and years we will undergo this transformation project and will share our progress & Victorian house renovation ideas within these pages. As we resolve issues and learn the many old house restoration methods and techniques we will aim to share this knowledge in regular guide posts. A Victorian house of this size will take some time to bring back to life. We anticipate that the majority of the work will be completed within the next 3 years or so. We are in no rush! Hopefully you will find our content useful & informative and will help you to achieve your own Victorian house renovation success.