If you are searching for Earthborn Clay Paint reviews then the chances are you are in need of a breathable paint or something eco friendly. It is a popular choice in both of these areas and perhaps the leader in clay based paint products. We have now used a number of mineral based paints for our Victorian Project. In this Earthborn Clay Paint Review we take you through the good & bad of using this clay on your plaster walls.
What is the Victorian Project all about? Find out here.
What is Clay Paint?
As the name suggests a clay paint is a water based emulsion with the primary ingredient of natural clays. Most are free from oil, plastic or acrylic giving them unique properties. A clay paint is breathable meaning that moisture can pass through it. This makes it a good choice for use on lime plaster or rooms showing signs of damp. It will not trap moisture and damage the walls. Being free from processed materials and minimal VOC (volatile organic compounds) it is also one of the more eco friendly of the paint options available. [See also: Breathable Paint For Lime Plaster – What Are The Options?]
Earthborn Clay Paint Colours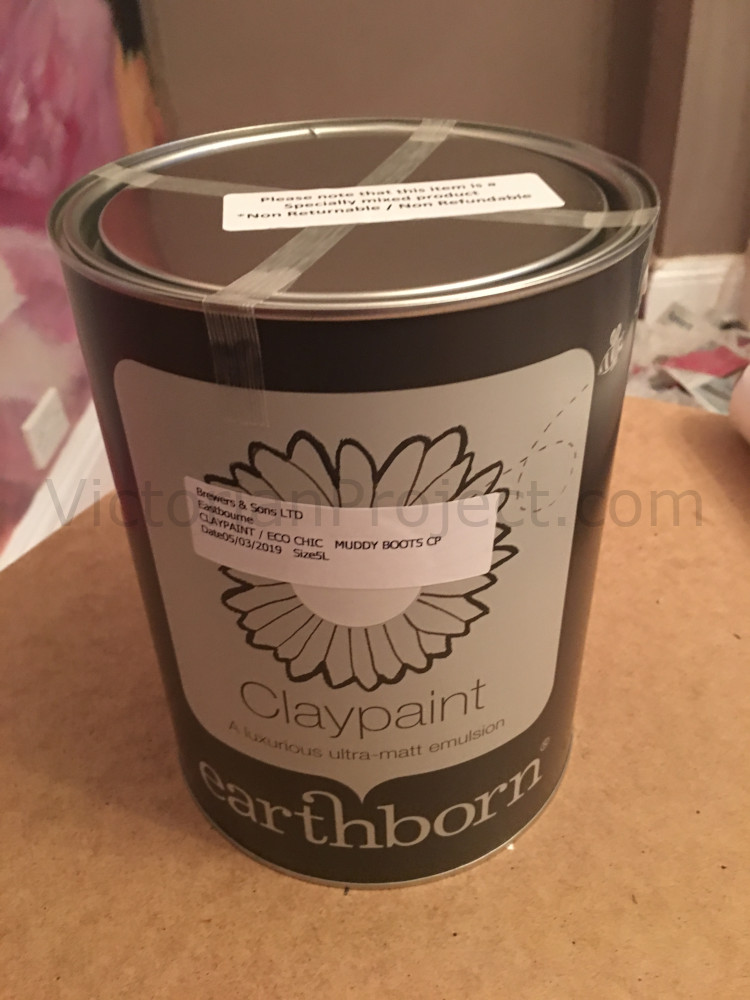 As I have said before if you do a Google search for clay paint the first page of the search results is more or less all Earthborn. In the UK there seems to be a limited number of suppliers of clay based paints and Earthborn are all over it. Fortunately however their range of colours is now quite extensive and at the time of writing this post they offer a total of 72 colours. You can checkout the Earthborn colour range using this link.
We have used three of these colours including 'Donkey Ride', 'Toy Soldier' and 'Muddy Boots'. When painted on fresh lime plaster walls they are a good likeness to the colour charts. There are some images later showing our use of the 'Muddy Boots' colour.
Is Earthborn Clay An Eco Friendly Paint?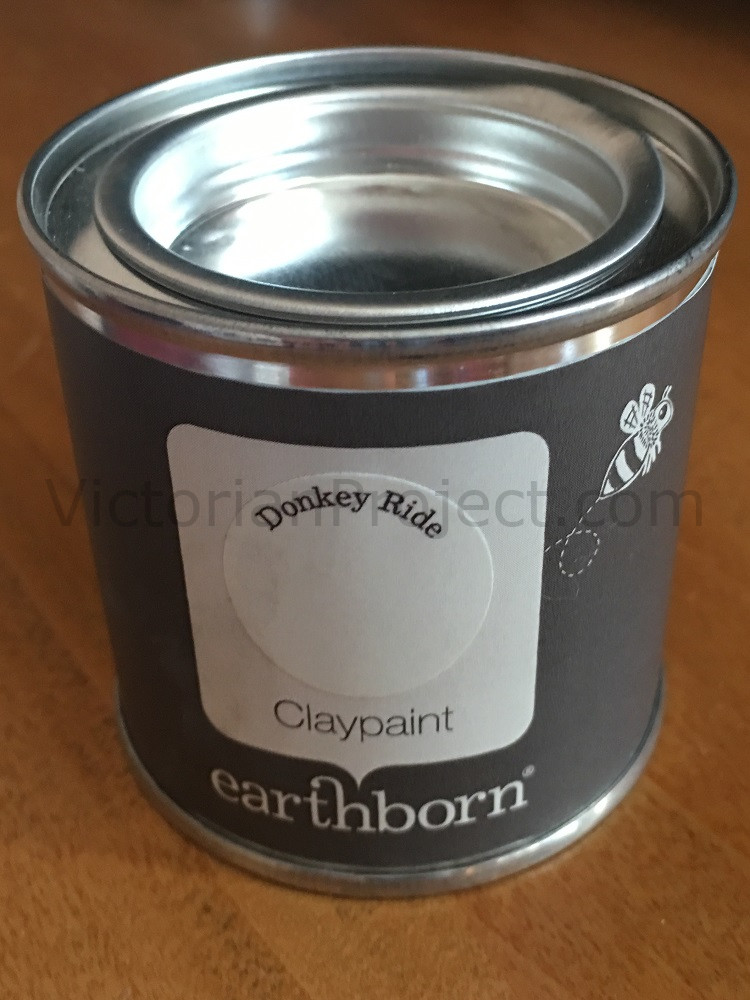 If you look at the data sheet for any paint brand you will see a VOC (Volatile Organic Compounds) statement or figure. There are other factors involved but generally the lower this figure the more eco friendly the paint is. The Earthborn clay paint data sheet gives a VOC content figure of less than 0.5g/L which is comparable to other mineral based paints. They also boast that Earthborn clay paint is vegan friendly. You can view the full Earthborn clay paint data sheet here.
Use Of Earthborn Clay Paint
So, we needed a breathable paint for our living room walls. The living room is one of the largest rooms in the house and fully plastered in breathable lime. If you have breathable plaster you want a breathable paint to compliment it. Also the living room is positioned directly above the cellar and as a result is prone to moisture. Having tried lime wash previously we wanted something thicker requiring fewer applications. After an extensive Google search of breathable paint for lime plaster, clay paint was a new alternative for us.
Not sure on colour we purchased three 100ml tester pots from Earthborn. These are available for approx £5 a pot in the UK. We eventually settled on the safe colour of 'Muddy Boots' and purchased it in 5L tins. It is also available in a smaller 2.5L version. Below are our findings from our living room renovation.
Coverage & Consistency
If you have ever used a lime wash as your breathable paint choice then when you open up a can of Earthborn clay paint you will immediately notice its consistency. Unlike a watery wash it is very thick which provides for great coverage. We found that one mist coat and one full coat was sufficient to fully cover the walls and bring out the tone. As lime plaster doesn't have the best finish to it the thickness of the clay paint worked well to help this. Whilst it is not a miracle worker it does make the wall look marginally smoother. Earthborn advise a coverage of approximately 10 m² per litre which is fair.
Paint Application
As with all paint, Earthborn clay can be applied using a brush or roller. When we rolled in our first wall we were somewhat concerned as it looked like a patch work quilt! The roller strokes were massively apparent and we could not see how this would work. [See also: Should Lime Be Used for Victorian Houses? Lime vs Gypsum Plaster]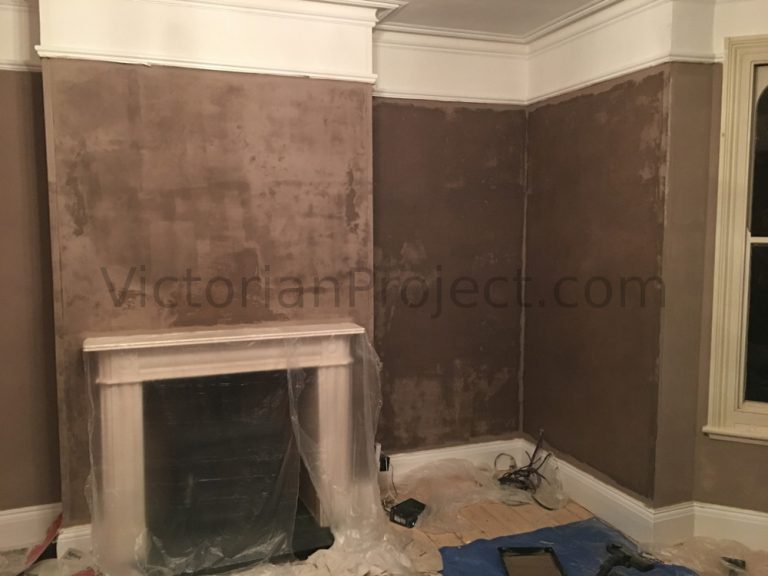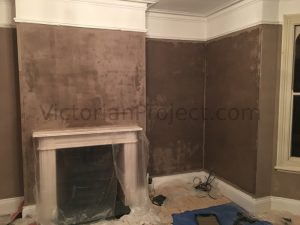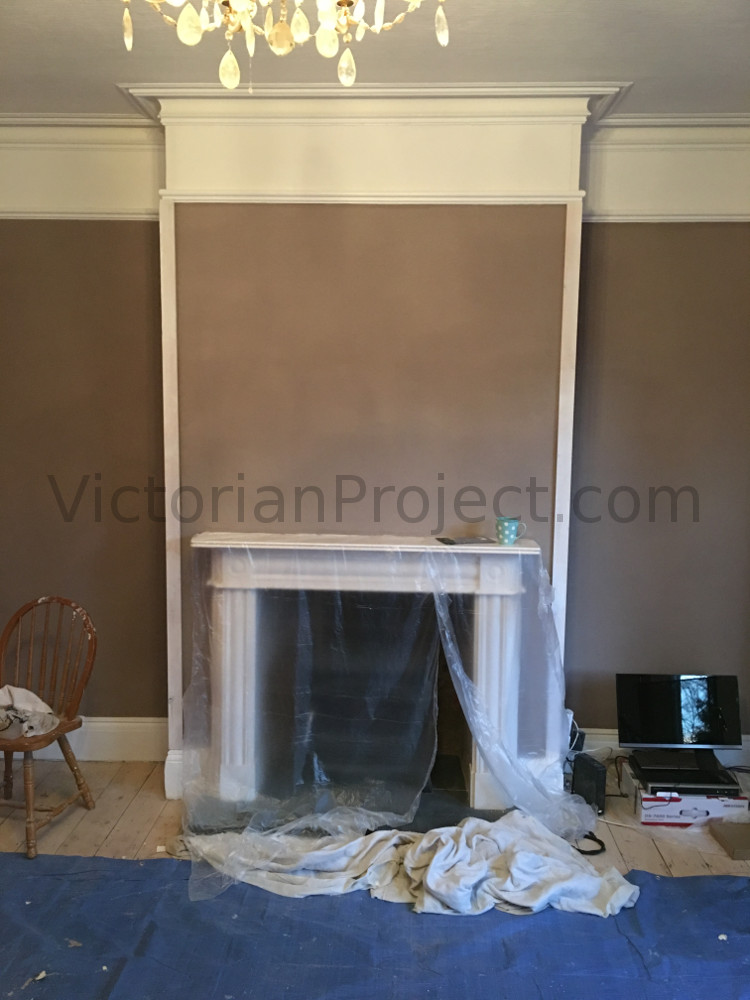 After a couple of hours though it had fully evened out and the strokes all blended in nicely. The recommended drying time before applying the second coat is 6-12 hours so we applied the full coat the following day. Again patchy to start off but evened up nicely as it dried. [See also: Repairing Lime Plaster Walls – Hiding The Cracks]
As Earthborn clay is a mineral based paint it is important to mention the smell. When our full living room was painted in which is a large space you can smell the paint. However it is not offensive like standard emulsions. Nothing to do with the name but it has a real earthy smell to it. This smell quickly reduces as the paint becomes touch dry. Please see the data sheet link provided above for more information on fumes. [See also: Fix Damp in Victorian Houses and the Common Causes]
Touch Ups & Maintenance
So, coverage is good, consistency works well to improve the look of a lime surface and the smell is inoffensive so all is looking good. There are a couple of bad points to address in our Earthborn Clay Paint review however. We found that you have to be prompt with the application and get it right first time and touch ups aren't easy. [See also: Plaster, Putty & Paint – The Living Room Walls]
We found that after you have cut in your walls you need to roll the rest of the wall in immediately afterwards before it gets any time to dry. On a few areas where the cutting in had 20 mins or so of drying time before the main roller application the cutting stood out when the paint had fully dried. You need to do any walls that join in one hit or you will notice it in the finish. [See also: Remove Stubborn Wallpaper – Stripping Back]
We also found touchups to be impossible. With many emulsions if you get a mark on the wall and the paint has not been up for very long you can paint over it but with Earthborn clay the touchup stands out a mile. It may have just been the colour we had selected but it was an issue. It also seemed quite easy to mark. When moving a heavy radiator into position leaning against the wall left a small sweat mark which stays and the breathable clay paint on lime plaster was just not wipeable at all. [See also: Victorian Roof Repairs – Starting Point for any Renovation]
Get the application right first time and then look after your walls!
Earthborn Clay Paint Review – Roundup
If you are working on an old property and one that does show signs of damp using a clay based paint rather than a regular emulsion will help the moisture management. A good clay paint for damp walls such as Earthborn will help lesson the symptoms. [See also: Open Up A Fireplace & Log Burner Installation]
Of the few breathable eco friendly paint options available we started out with lime washes and moved on to Earthborn clay paint. Since completing our first room in Earthborn we have never looked back. Its superior consistency is excellent and certainly something you should think about if you are painting less perfect lime plaster. As said it won't perform miracles but it did give our grainy lime walls a smoother look. You will also need far fewer coats than using a wash. We found one mist coat and one full coat to be sufficient. [See also: Broseley Serrano 7 SE Review – Our Log Burner]
Despite there being few manufacturers of this stuff Earthborn have a wide range of colours and something that should cater for most room designs.
For the eco friendly minded out there the paint is free from oil, plastics and acrylics and has minimal VOC. It light, inoffensive, earthy smell will not give you a headache when working with it for extended periods. [See also: Ivy Invasion – Removal from Bricks, Roofing & Gutters]
Whilst the list of positives is extensive there are negatives. You need to be careful when cutting or painting adjacent walls as if two areas dry separately you will notice the transition. Maintenance of the painted surface is very difficult. You cannot touch up a marked area and it does seem to pickup stains easily so be prepared to look after the walls. [See also: Should I Get A Building Survey & Are House Surveys Worth It?]
Final verdict: Earthborn Clay Paint is a quality product and having made a number of applications in our home using a selection of colours we highly recommend it. Having tried a number of breathable paint products for our lime plaster walls in the past, Earthborn clay is now our breathable paint of choice. [See also: 10 'Gotchas' when buying a Victorian House – Knowledge is Power]