It is highly likely that when you take down wallpaper that has been up for many years you will find areas that need re-work. Parts of the original plaster unfortunately come down with the paper. Or, you may be looking for a more modern painted finish which you feel the original plaster can't give. During the Victorian period houses were plastered using lime based products and not the more modern cement based plasters of today. In this article we debate Lime Plaster vs Gypsum Plaster and look at whether lime is a must for Victorian houses.
What is the Victorian Project all about? Find out here.
Lime Plaster vs Gypsum Plaster – The Key Differences
If you have never worked with lime plaster then it is important to know the differences between the two. Knowing how they are applied, how they will finish and the difference in cost is paramount. As lime is now infrequently used and takes significantly more time to apply the Lime plaster cost far exceeds that of the modern renovating plasters. [See also: Main Living Room Transformation (Before) -Decorating Begins]
Lime Plaster Characteristics
Without doubt the main reason for using lime plaster is the fact that it is breathable. Building methods used during the Victorian period were very different to what they are today. Victorian houses are colder, less insulated and it was accepted that it was not possible to block out all moisture. By contrast newer houses and certainly those constructed post the 1950s were built to stop the moisture from getting in.
Knowing that the houses would contain some moisture a breathable plaster (lime) was used. This allowed the moisture to be absorbed into it and then expelled again as conditions change. The result of this is that damp spots are reduced and the plaster does not blow if moisture gets behind it. [See also: Fix Damp in Victorian Houses and the Common Causes]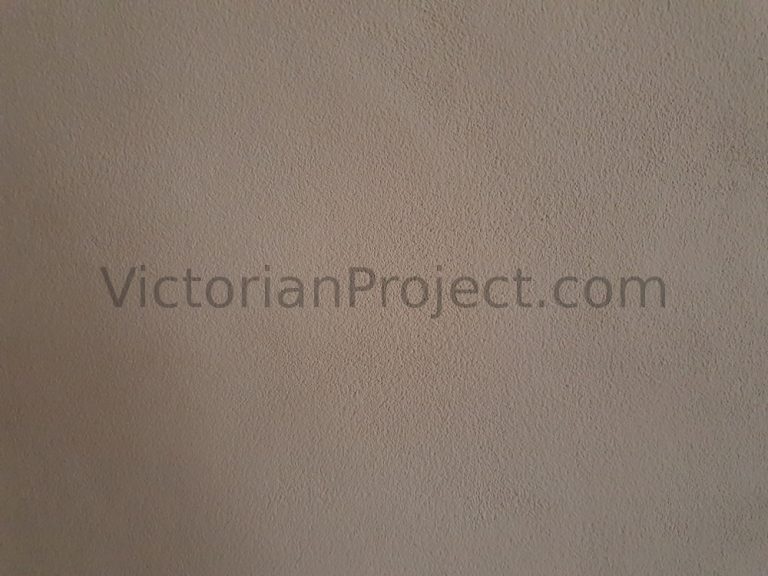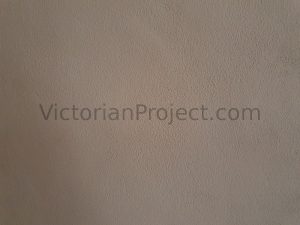 Another benefit of lime is that it allows a small degree of movement. Not being as brittle, if the house moves over time the lime plaster is less likely to crack and remains intact. The image above shows a close up of a painted lime plaster finish. Click on it to zoom in. We show a side-by-side comparison with a modern plaster later in this article. [See also: Remove Stubborn Wallpaper – Stripping Back]
Types of Lime Plaster
It is worth noting that there are different types of lime plaster which have different properties. As we are not plasterers you should rely on your chosen plasterer or supplier to advise on which is right for your job. [See also: Victorian Roof Repairs – Starting Point for any Renovation]
The Drawbacks of Lime Plaster
Despite lime plaster being better suited to building practices of the Victorian period it has two major draw backs; the finish & the price. Even with the more modern derivatives of traditional lime you will not achieve the finish of today's renovating plasters. It has a rougher texture to it that is visible from distance. See the side-by-side comparison image later in this post to get a full feel for this.
The lime plaster cost may not fit your budget. You should expect to pay up to three times the amount for a lime plaster job as you would for Gypsum. The reasons for this are both the cost of materials and the length of time required to apply it. Lime plaster has to be applied in different layers allowing sufficient drying time between them. You will find that the plaster needs to return on multiple days to complete a single wall. [See also: Open Up A Fireplace & Log Burner Installation]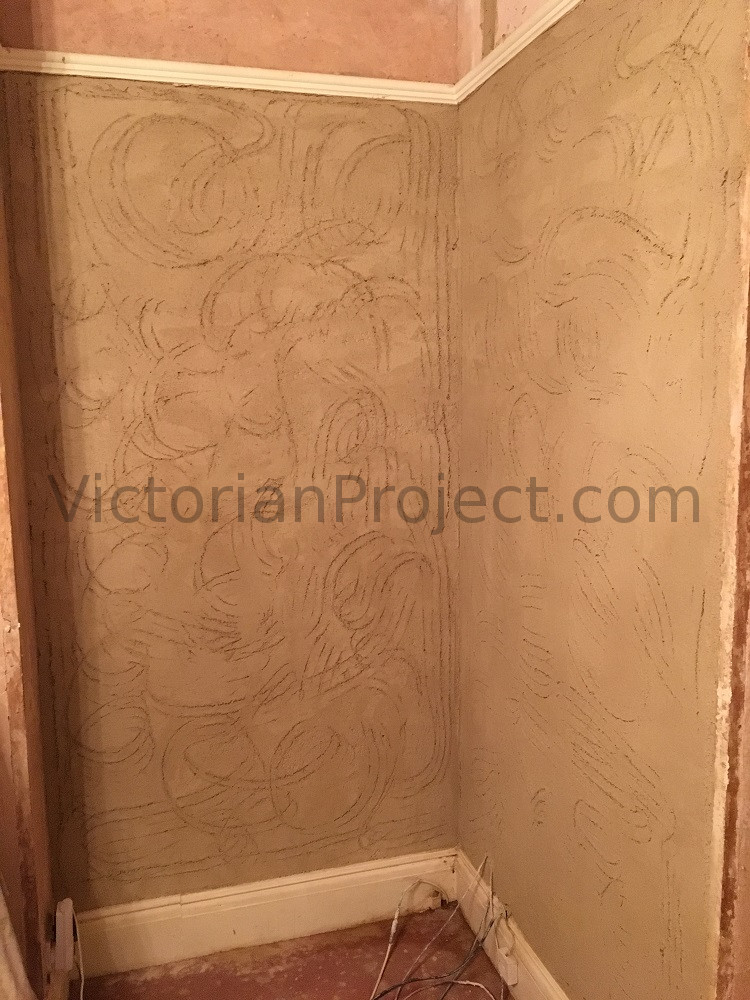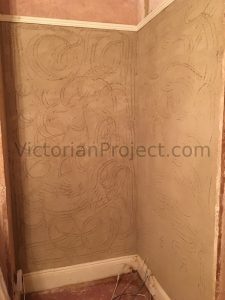 It is also important to note that you will need to shop around to find a suitable plasterer to carry out the job. As lime plastering is now less common many plasterers will have never worked with it. We found that many would agree to take on the work but hadn't actually used lime before. Find someone who has and ask if you can see photographs of their previous work. The plasterer that we used had carried out lime work in a public building so we were able to go and see for ourselves what he could offer and the finish etc we could expect. [See also: Should I Get A Building Survey & Are House Surveys Worth It?]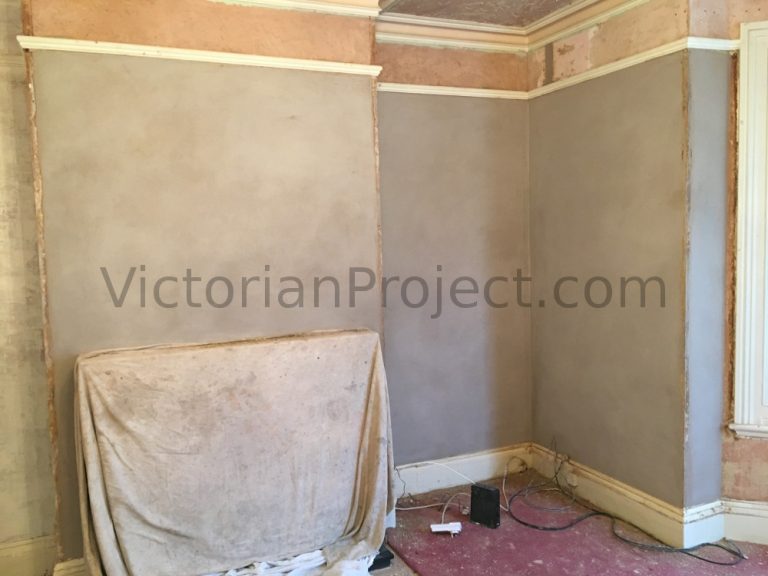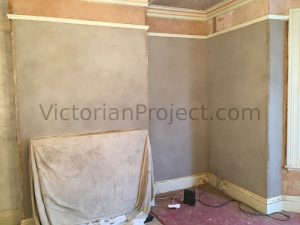 Gypsum Plaster Characteristics
People often refer to the more modern renovating plaster as Gypsum plaster. This is because it is by far the most commonly used plaster brand. This is the type of plaster used in all new property builds and the standard product used by most plasterers for renovation jobs. [See also: Ivy Invasion – Removal from Bricks, Roofing & Gutters]
Gypsum plaster is completely different to lime. Firstly in how it looks; you will get a completely different superior finish. It will produce walls or ceilings that are super smooth (assuming the job is done correctly) that are perfect for a lick of paint. Secondly the application time required is much less. Without any over boarding or other preparation tasks a small room skim could be completed in a single day. [See also: Broseley Serrano 7 SE Review – Our Log Burner]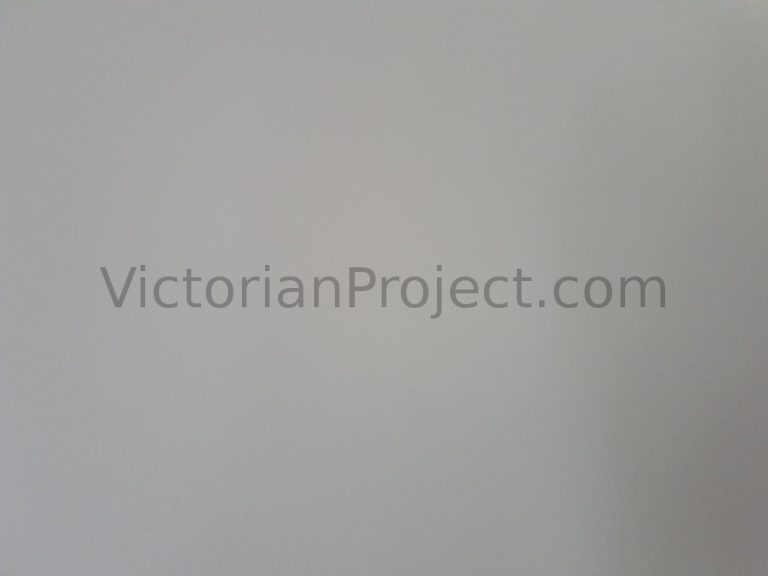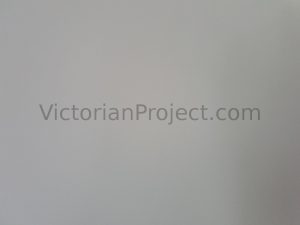 The image above shows you the finish of a Gypsum skim. Click on it to zoom in. It is very difficult to see anything other than a shade of colour as there are few imperfections when compared with previous lime image example. [See also: 10 'Gotchas' when buying a Victorian House – Knowledge is Power]
The Drawbacks of Gypsum Plaster for Victorian Houses
The major drawback of modern plaster for Victorian houses is that it is not breathable. As stated above Victorian houses are significantly cooler than new builds with higher moisture levels. Went the houses were built they were designed with breathability in mind and cement based plaster goes against this.
In a Victorian house you will run into problems with Gypsum plaster if any moisture gets trapped behind it. Unlike breathable lime plaster that would allow it to simply pass through modern plaster would cause it to get stuck and build up over time. This in turn causes the plaster to bulge and blow from the wall. The image below shows an example of where moisture has detached the plaster from the wall. Click to enlarge it.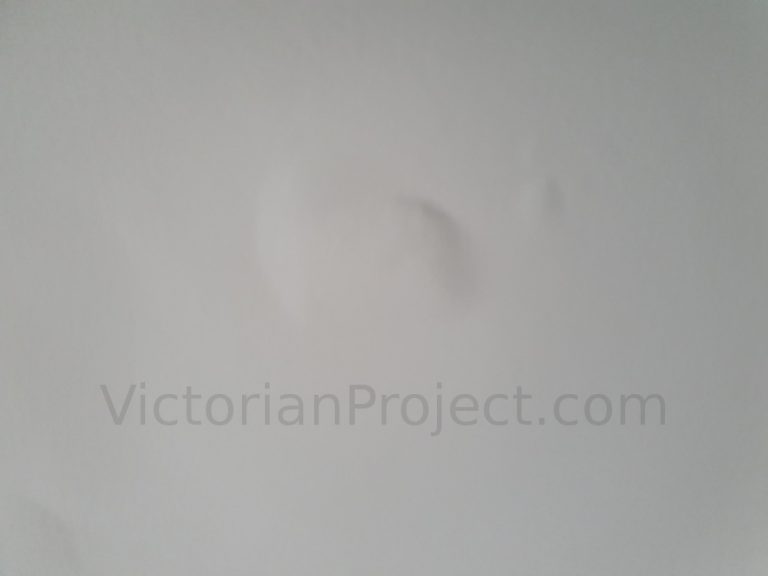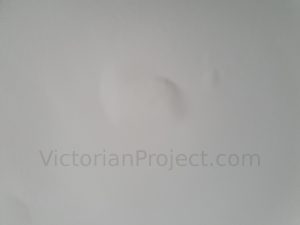 Also as cement based plaster is harder it is more brittle. As Victorian houses are known to move more over time you are far more likely to see cracks in a gypsum skim than you would with traditional lime.
Lime Plaster Suppliers in the UK
If you are looking to take on the job yourself and are looking where to buy lime plaster we can recommend the Traditional Lime Company in the UK. We have used their products on a handful of occasions and they offered good advice and guidance for our job.
Should I Use Lime for Victorian Houses?
This is the burning question and perhaps the reason that you landed on this page. My advise to you when trying to decide between renovating plaster vs lime plaster is this…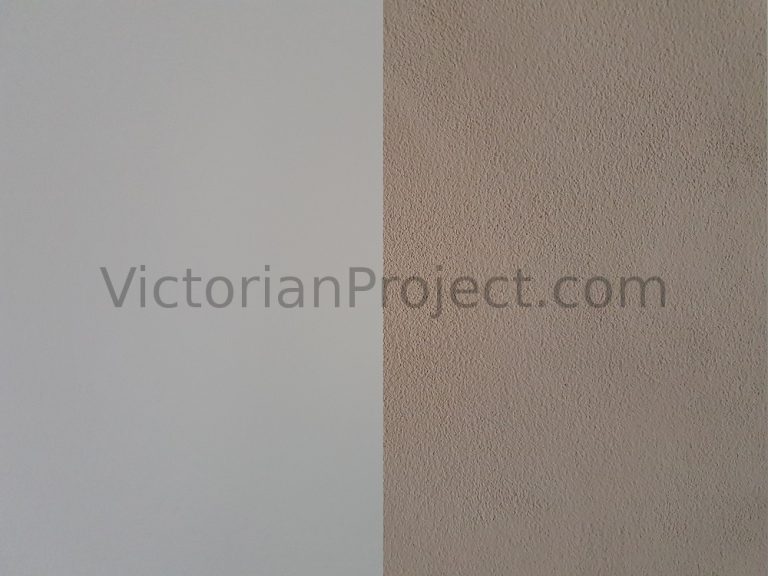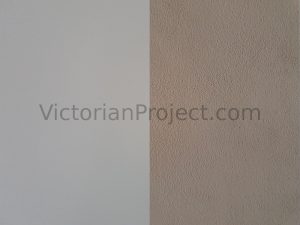 For Victorian houses lime plaster is always the 'correct' way to proceed as it is in keeping with the way the property was originally designed to function. That said if you are looking to paint the walls for a more modern look you need to decide whether you would be happy with a lime finish as it is nowhere near as good as Gypsum. Expand the image above to clearly see this. Also, does a lime plaster job fit in with your budget? If you have a larger area to restore it will cost you significantly more.
Assess the damp situation in your room. If the space does have damp issues or for example is located above a cellar then using lime would reduce the problem. If the room consists of mainly internal walls and shows no signs of damp then modern plaster should be fine, giving a better finish and could save you a fortune. You may need to accept an element of cracking or small patches of blowing. Its a balancing act between cost/better finish & longevity and function.
Our Plaster Decisions
When looking at lime plaster vs Gypsum plaster for our property we too looked at the above. Lime plaster was used for the main living room as it contained significant damp patches. This was the first room that we renovated and the first time we had seen or used lime plaster. As we wanted painted walls we were somewhat disappointed with the finish but it did seem to help with the damp. For most other rooms where damp is not an issue we have gone for Gypsum. It may not last as long as lime but it is a trade off for the better finish and one that we were happy to accept.